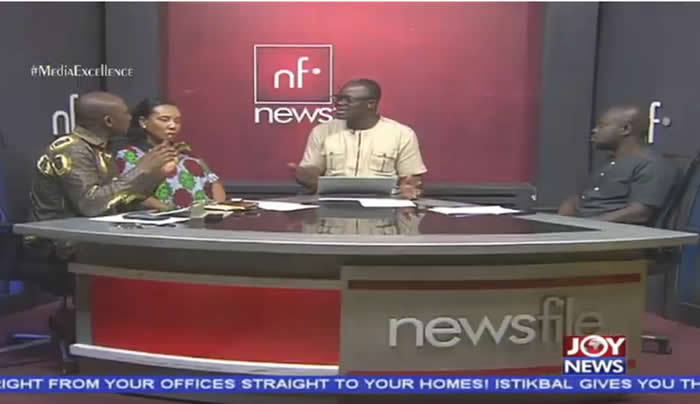 10 things we learned from Newsfile: Bawumia's cedi-saving skills have been "exaggerated", Prof. Bokpin says
On January 25, 2020, the second edition of Newsfile discussed the banking sector crisis, the setting up of the FX Development Committee and the fight against illegal mining.
TheGhanaReport.com monitored and brings you 10 things we learned.
                 ==================================
Government has still not set up the Right to Information Commission after passing RTI law
Ghana has an RTI law which cannot be implemented because the government has not set up a Right to Information Commission that is at the heart of the implementation of this law.
That Commission can compel uncooperative institutions to release information it may have refused an applicant. It is to a citizen, a sort of Liverpool ensuring that 'you will never walk alone' in the push for information. Without it, citizens are on their own and essentially back to square one where an applicant must have to go through the expensive drudgery of the courts to get information.
'It is a bit of a joke to want to jubilate at this time' an RTI advocate and Newsfile host Samson Lardy Anyenini appeared to lace up his boots for another round of public-spirited advocacy.
Bawumia's economy-saving capabilities have been "exaggerated to a large extent"
The cedi is trading close to six cedis to a dollar triggering a huge backlash against the government particularly the Vice-President Dr Mahamudu Bawumia, who is the chairperson of the Economic Management Team.
Professor Godfred A. Bokpin, an Economist and Professor of Finance at the University of Ghana, said the cedi's management in 2019 under the NPP government has been "a bit terrible" losing at least 12 per cent to the dollar.
Those who hailed Bawumia as an economic Messiah coming to "arrest the cedi' should be revising their notes by now, he urged.
'There was a certain exaggeration of ability to do something" he said of Bawumia whose critical lectures while in opposition was a constant newsreel.
All his "beautiful" lecture on Restoring the value of the cedi was "exaggerating to a large extent" his capacity to do something about a currency depreciation that dates back to 1965, the professor of Economics at the University of Ghana said.
You can't hope in Bawumia and you shouldn't hope in anyone else
And Bawumia's incapacity should be a lesson to the opposition National Democratic Congress (NDC) too, Prof. Bokpin indicated. "We are getting to the stage where politicians would have to be measured in terms of the hope they seek to offer and their ability to do ABC whether it is the NPP or the NDC."
Why Prof Bokpin does not want to call Bawumia incompetent
According to Prof. Godfred Bokpin, despite the poor performance of the cedi under the NPP government "it could have been worse without them" as it was in 2014.
The average annual rate of depreciation between 2013 and 2016 under John Mahama was 18 per cent. From 2017 to 2019 under Akufo-Addo, it is 8.7 per cent. And it is this stark difference that appears to discourage Prof. Bokpin from calling Bawumia incompetent.
"I do not want to go that line," he said and pointed out that the NPP is "doing their best but maybe their best isn't good enough."
Prof. Bokpin notes that there are structural problems with the economy which is beyond the ability of just one person or institution to solve.
Why the Bank of Ghana appears to look on while the cedi looks down
Prof. Bokpin is concerned that despite the much slower rate of depreciation under the NPP, the year 2019 showed a notable exception. The cedi depreciated a whopping 12 per cent.  But why did the Bank of Ghana barely intervene by pumping in dollars?
"You can see why the central bank was doing this," Prof Bokpin said explaining he suspects it is because the central bank wanted to increase Ghana's international reserves ahead of the election year. In 2020, the central bank could be in a much stronger position to release monies and halt the appalling decline.
More so when in election years, capital flight intensifies.
FX Development Committee can't do 'foko'
There was some sort of 'bilateral agreement' between the economic expert, Prof. Godfred Bokpin, and the politician, Mona Quartey, that the government's decision to establish an 'FX Development Committee' following another round of cedi depreciation will amount to nothing.

Photo: Members of the FX Development Committee
For the two panellists, that committee is just a PR exercise. Prof Bokpin says any suggestions that the committee could help stabilise the cedi is like 'asking a fish to climb a tree' while Mona Quartey was emphatic that for "purely economics and finance people this is "honestly unnecessary" and an "effort in futility."
They also agree the committee is trying to do the job already being done by the Bank of Ghana and the Finance Ministry. But when Mona Quartey goes further to suggest it could be unconstitutional, Prof. Bokpin leaves her to walk that path alone.
When it comes to the prosecution of the rich, the poor must brace for a long frustrating trial
Jailing a plantain thief five years is easy. But when it comes to the men in fancy suits, it could take an eternity.
Already, the Governor of the Bank of Ghana, Dr Ernest Adison, cuts a frustrated figure. Speaking at the New Year School in 2019, he said the recovery of ill-gotten monies from failed bankers is "hampered by frivolous legal challenges mounted by some complicit person intended to frustrate the receivers. These schemes ought not to be countenanced by the court"
And so fellow Ghanaians, relax, the push to recover monies from failed bank owners could become a Woyome. By that it is meant, it could be a long drawn process with perhaps no end in sight.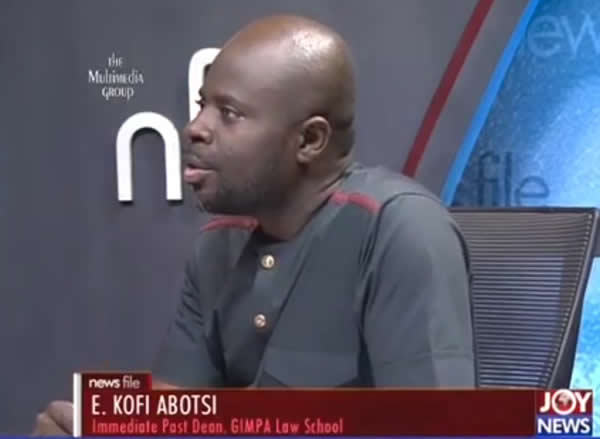 "We should be ready for some of these frustrations. Sadly, when people who are of means have criminal cases these cases normally tend to drag," Kofi Abotsi, who is Managing Partner of Axis Legal, explained.
Mona Quartey appears more concerned about the accused than the victims of this banking crisis.
The government has spent a colossal 14bn cedis to clean up the banking sector since 2017. A situation that has come about because of a catastrophic failure of regulators who looked on while directors and shareholders cut expensive corners.
But the former Deputy of Finance, Mona Quartey, has another way of looking at it. She appeared more concerned at the reputational damage done to several of these directors and shareholders who are standing trial for among others stealing.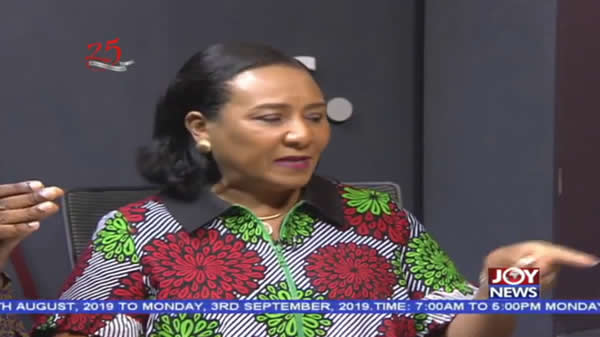 "The fact that they are charges they have started to destroy reputations already. And people who are being accused are already feeling very bad. Others are looking at them as criminals before anything is established."
She faulted the media for a media trial, she criticised the central bank for its handling of the clean-up process.  She was also dismissive of the reported frustrations of Dr Addison at the slow rate of prosecution but it was glaring she was not prepared to point any finger at former managers of the central bank.
"All these things happened under the watch of the Bank of Ghana… I am even amazed that as we speak, we have not seen a proliferation of suits" against the regulators, legal practitioner Kofi Abotsi expressed shock.
"The Bank of Ghana cannot escape liability for having slept on the job" he expressed disappointment.  But their sinful negligence was lost on Mona Quartey.
If you don't pay your debt today, the worse that could happen to you is nothing
Kofi Abotsi observed that the banking crisis is "deeper than we see." He pointed out that banks are having to write off loans as bad debts because of a change of the law in 2004.
"People set up companies, go for a loan, the loan never stays in the account of the company, the loan is put in some private accounts somewhere. The company defaults, the company issued, judgment is secured against that company but the company is a shell"
And the bank has to decide to call it a bad debt, he narrated. The lawyer said until 2004 someone could bring criminal proceedings against a person who is not able to pay his debts.
"Today, people are very happy with indebtedness." Apart from simply seizing assets, there is nothing else a bank or a person could do to get their monies back.
Godfred Bokpin can start a church
On a lighter note, it was clear that the Professor of Economics is also a student of the Bible. On two occasions, he couldn't help but refer to Scriptures to stress a point. First, he pointed out that currency issues are a huge problem and that even Jesus Christ had to "crack the whip at money changers" in church.
Then he lamented the serious regulatory failure of previous managers at the Bank of Ghana explaining that Ghanaians have no option than to save their monies in the banks. And this is where he pointed out the Biblical story of talents.
"The ideal place for excess money is not your bedroom, it is not under the earth because we were told from Matthew 25: 14 when talent was distributed.
But the only one who was chastised was the one who went to hide his money without investing it.
========================