15 Roads Constructed In Akufo-Addo's First Term – Roads Ministry
Over 15 major road projects were started and completed in the first term of President Nana Akufo-Addo, according to the Ministry of Roads and Highways.
A statement issued on Wednesday, June 2,  defended the government's case against criticisms of having not initiated and finished any road projects during Akufo-Addo's presidency.
A list of the projects accompanied the ministry's press release.
The list included a reconstruction of the Otanor School Junction Road, which the government said was completed in 2019. Others include Kodie-Aduman (2019), Kwaben-Akropong (2020), Asutiano-Dormaa Akotanim (2020) and the upgrading of Bekwai Town roads (2020).
Other projects were stated to be ongoing, and they include the roads associated with the Sinohydro Project. The ministry made it a point to push back against claims that Sinohydro had failed.
The national conversation on government performance is often dominated by infrastructure development as perceived by the people of this country.
In the middle of May, Kwasi Amoako Atta, the Minister of Roads and Highways, slammed critics of the government who pressed for government to do more on road construction.
The minister asked government detractors to "catch up" on what the government had been doing since 2017.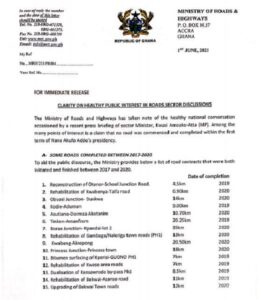 Amoako Atta also promised that the period between 2021 and 2024 would see the completion of 6,000 km of roads across the country. Ghanaians were also told to expect 120 bridges and 20 interchanges across the length and breadth of this country so as to allow simple vehicular traffic.
The government is touting these plans as among the biggest investment in road transportation in the history of Ghana.
Meanwhile, the Minister of Finance, Ken Ofori-Atta, has estimated that it will cost the government US$10 billion to fix all dilapidated roads in Ghana.
When responding to a question from the media on Sunday, June 9, the minister said this during the Minister's press briefing.
The question was relevant following agitations by the #FixTheCountry. campaigners calling the government to fix the country's bad road network.