200 Unidentified Bodies Readied For Mass Burial By Police Hospital
The Police Hospital in Accra will hold a mass burial for 200 unidentified bodies currently in the morgue of the facility.
This revelation was contained in a press statement issued by the Ghana Police Service on Monday, July 5. The statement described the bodies as an aggregate of "unidentified and unclaimed dead bodies".
The date for the mass burial was not stated, however, the general public was encouraged to help in identifying some of these bodies.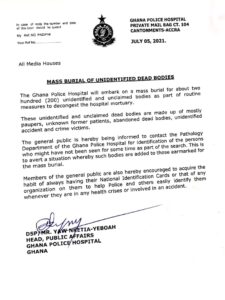 "The public is hereby being informed to contact the Pathology Department of Ghana PPolice Hospital for identification of the persons who might have not been seen for some time as part of the search. This is to avert a situation whereby such bodies are added to those earmarked for mass burial," the statement said.
The police service also took the opportunity to advise Ghanaians to cultivate the habit of carrying forms of identification "to help [the] Police and others identify them whenever they are in any health crises or involved in an accident".
This is the second time in a little over a year that the Police Hospital has served notice of a mass burial for unidentified bodies.
In April of 2020, a statement signed by the hospital's Public Affairs Directorate, DSP Yaw Nketia-Yeboah, urged persons who had the bodies of their loved ones in the mortuary to come for them for burial.
"The Ghana Police Hospital requests all those who have deposited bodies of their loved ones in the Police hospital mortuary to come for them for private burials. This is to enable the necessary renovation works at the facility to be done two weeks after the press release," the statement had said.