2024 Budget: Government Expenditure Increases To GH¢226.7 billion
Government spending is projected to hit GH¢226.7 billion in 2024, 23% higher than the GH¢183.9 billion revised estimates by the Finance Ministry for 2023.
At the same time, revenues and total grants for 2024 are projected at GH¢176.4 billion, which leaves a fiscal deficit of GH¢ 50.1 billion, equivalent to 4.8 per cent of GDP.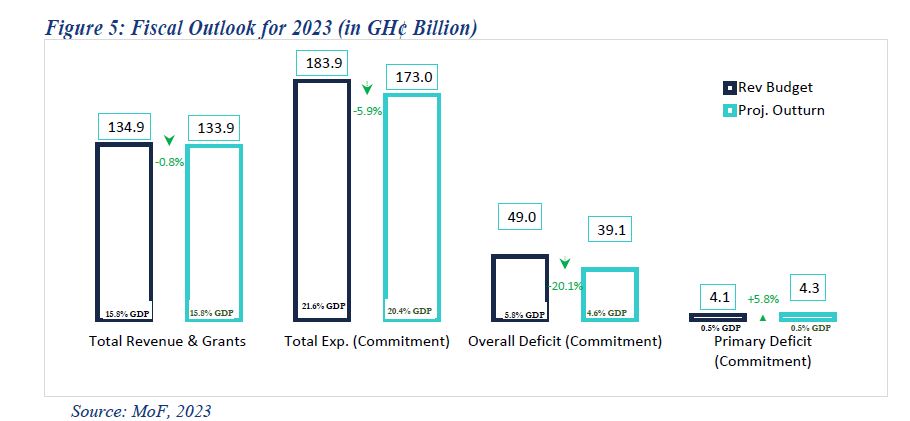 Out of the total, employee compensation alone will swallow a whooping GH¢63, 683, with expenditure into productive areas pegged at a meagre GH¢28, 720.
Employee compensation and interest payments on loans will consume more than half of the expenditure, stifling significant investment in areas that will positively impact the economy.
These figures are contained in the Budget Statement and Economic Policy for the 2024 Financial presented to Parliament by the Finance Minister on Wednesday, November 15.
The expenditure represents 21.6 per cent of the country's Gross Domestic Product (GDP).
This projection also reflects a 6.1 percentage point of GDP reduction in total expenditures (commitment basis) relative to the outturn in 2022.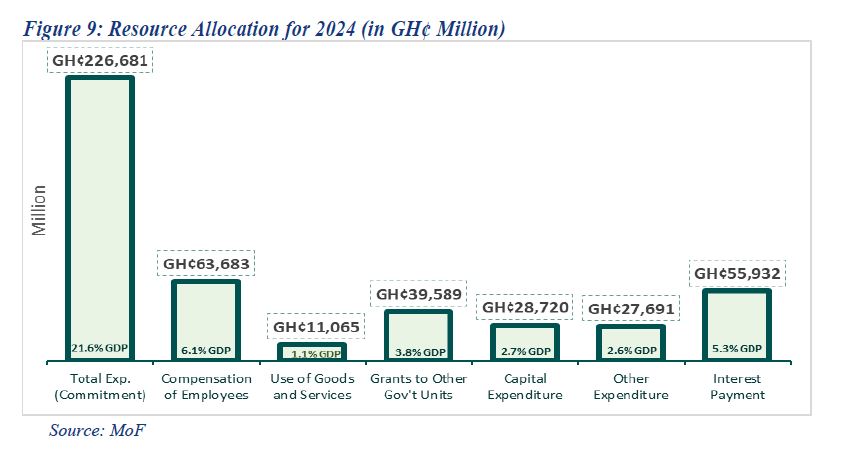 According to Mr Ofori-Atta, "This large decrease comes from the combination of fiscal consolidation efforts of 4.9 percentage points of GDP, reflecting an adjustment in revenue by 1.0 percentage point and primary expenditure by 4.0 percentage point of GDP. The potential interest rate saving from the ongoing external debt operation will further bolster public finance sustainability".
Ofori-Atta highlighted various sectors that would receive significant allocations from the projected expenditure, including infrastructure development, education, healthcare, agriculture, and job creation. These sectors are considered critical for unlocking Ghana's long-term economic potential and fostering sustainable development.
Mr Ofori-Atta said the 2024 budget is even more significant because Ghana will cross the GH₵1 trillion Gross Domestic Product (GDP) mark for the first time.
With the set milestone, he stressed the need to protect, at all costs, the foundation for sustained economic expansion.
The finance minister further revealed that the government has tamed depreciation.
"The Cedi has stabilised against the US dollar since early 2023 with a year-to-date cumulative depreciation of 25.7 per cent compared to 54.1 per cent over the same period in 2022. Specifically, the cedi has only depreciated by 6.4 per cent on a cumulative basis since February 2023 compared to 53.9 per cent over the same period in 2022."
Meanwhile, the government has budgeted an amount of GH₵220 million to support victims of the recent Akosombo dam spillage.
Additionally, relief items such as drinks, mattresses, mosquito nets and coils, clothes, baby food and diapers, treated water services, and solar lamps, among others, have already been distributed to victims.
The sector minister also disclosed that the team has requested funding from the World Bank under the IDA Crisis Response Window (CRW) to support the resettlement of the victims, restoration of livelihoods, compensation and reconstruction of infrastructure in the affected communities.
As part of its fiscal measures, the government has decided to waive import duties on Electric Vehicles (EVs) designated for public transportation for the next eight years.
Additionally, import duties would be exempted for semi-knocked down and completely knocked down electric vehicles brought into the country by registered EV assembly companies for the same eight-year period.
The EVs are expected to cut down demand for petrol and diesel vehicles to reduce prices and curb harmful carbon emissions.