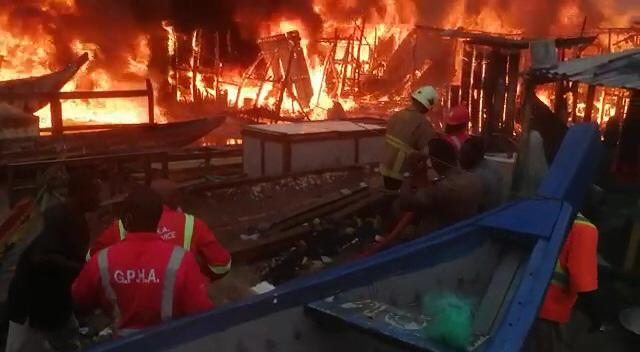 4,467 Fire Outbreaks Recorded From January to July 2022
The Ghana National Fire Service (GNFS) registered 4,467 fire outbreaks between January and July across the country for the first half of 2022.
According to the service, 444 road traffic collisions (RTC) were attended to and 107 rescue duties in the same period.
January recorded 1,090 fire outbreaks, with bush fires being the highest with 432, while there were 317 domestic fires.
In February, out of the 762 fire outbreaks that occurred, 239 cases were domestic, with bush fires accounting for 224, with only four industrial fires.
In March, there were 551 fire outbreaks, a decline of 211 from the previous month, representing 27.7 per cent.
The highest category recorded in that month was domestic fires – 207, electrical and bush fires – 78 each, and three industrial fires.
In the month of April, there was a further decline of 81, representing 14.7 per cent.
The service recorded 470 fire outbreaks in that month, with domestic fires being the highest, with 184.
Electrical fires were 111, with only one industrial fire.
In May, there was a decline of seven, representing 1.4 per cent. In all, there were 463 outbreaks, with 195 domestic fires, 85 electrical fires and two industrial cases.
In June, the number further declined by 116, representing 33.4 per cent. There were 347 fires, out of which 148 were domestic, 82 electrical and two industrial.
In the month of July, there were 351 outbreaks, with domestic fires accounting for 157 and commercial fires 75.
These figures were contained in data presented by the Chief Fire Officer (CFO), Julius Kuunour, during the presentation of fire-fighting and rescue equipment to the service in Accra yesterday, September 7.
Mr Kuunour said the service had set a goal to reduce fire outbreaks by 60 per cent by the end of this year.
"This calls for us to redouble efforts by mobilizing all material and human resources to achieve this goal," he said.
Some equipment was donated by a philanthropist from the British Royal Army, Storms Menri, to help firefighters in their line of work.
It included foam drums, foam pick-up tools, delivery hose, rescue and fire-fighting jackets, fire helmets, back plates, face masks, hydraulic power packs, BA cylinders, among others.