60% Facebook posts in Ghana contains misinformation; Twitter is better – UK University research
Some 65% of information posted on Facebook in Ghana is inaccurate, an Exeter University study, has revealed.
In essence, Facebook users in Ghana are more likely to be misinformed than say Twitter which contains at least 8% of misinformation, the research found.
The rush to be the first to report a news item, according to the research is a major contributing factor to the increasing number of misinformed Facebook users.
The research was carried out in Accra, and in Tamale and some of the surrounding areas. The report also draws on a custom survey of 1,600 respondents in Tamale Central, Tamale North, Tamale South, and Nanton constituencies.
The research, 'Social Media, Cyber Battalions, and Political Mobilisation in Ghana'  was carried out by Elena Gadjanova, Gabrielle Lynch, Jason Reiler, and Ghada Saibu.
It also found that radio and television  are seen as containing the least amount of misinformation and are trusted more than political parties, state institutions, traditional leaders, and even friends and family."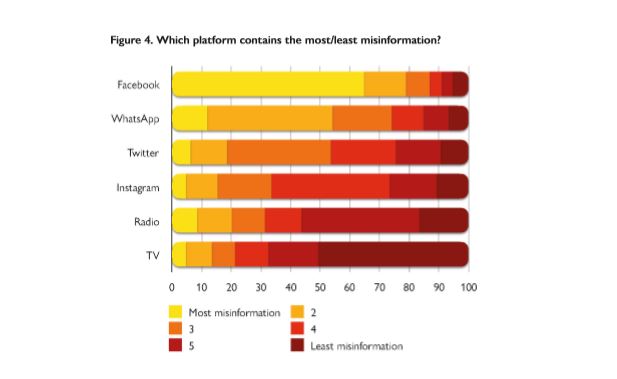 The researchers explained, the desire to hear from newsmakers directly drives the attention of traditional media (TV and Radio) enjoy.
"The attention to traditional media appears to be driven precisely by the desire to hear from the "truth arbiters"
Ghana has had its fair share of fake news, as misinformation and disinformation has become an issue as a result of technology and increased internet penetration.
In October 2019, Facebook extended its third-party fact-checking programmes from 5 African countries to 10, including Ghana, Ethiopia, Zambia, Somalia, Burkina Faso, Uganda, Tanzania, Democratic Republic of Congo, Cote d'Ivoire and Guinea Conakry.
But misinformation and parody accounts persist.
Celebrities and public figures are mostly victims of parody accounts but the Ghana Police Service has been the latest victim when a parody account announced: "Katanka sent us some weapons earlier this morning to use to protect ourselves in case the war gets to this side…"