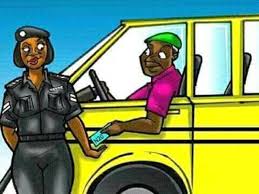 Accra to Cameroon by road: The hustles and frustrations (II)
This is a continuation of Abdul Rashid Zakari's article on trekking to Cameroon by road from Accra. The first part was published on July 9.
We were led sheepishly again to their immigration tent, passport taken, and asked to "sort," in order words bribe. I took out another 2,000 Naira, but these people said they won't accept it.
Interestingly,  and unfortunately, while haggling with them on what you want to give them,  the other passengers waiting in the bus ( all Nigerians) will be threatening you to sort the corrupt officials for the bus to move. Else, they will drop your items and move.
Scared by the thought of being left in no-man's-land, where vehicles passed hours apart, you will succumb to the demands of the crooks in uniform. We paid 5000 Naira each there. When we got back into the bus, I started a conversation with the other man and said he was also a Ghanaian. He's a pastor and had been invited by a colleague pastor to preach at his upcoming crusade.
We became paddies and had a long chat. We got to another checkpoint and my Ghanaian brother told me he was too broke pay again. So I had to pay for both of us. 
The same thing happened at the next two checkpoints. At 10 pm, we got to Ikom, and I was tired as a truck pusher in the Agbogbloshie market. 
From 7 am to 10 pm, I stopped only once for lunch and intermittently for checkpoints. I felt my buttocks being as hard as that of a cripple who drags his buttocks on the floor.
We wanted to continue straight to Cameroon that night, and so my Ghanaian 'brother' had a driver contact at Ikom (a border town between Nigeria and Cameroon) to help us cross the border.
The pastor's colleague in Cameroon gave the contact. He went by the popular moniker,  Oga Mike. He sojourns between the two countries in a BMW car, and you could tell he was  a real border-crosser rat by his looks and talks. Just before we could set off, he asked whether we had visas. Visas ? I asked .. and he said, Yes.
I was stunned.  I thought Cameroon was part of West Africa and he said "no." I google ECOWAS countries and truly Cameroon wasn't a West African country, but Central Africa.
Oga Mike advised we get visas from the Cameroon Embassy in Calabar the next day, else he can't help us cross. We had to look for a hotel and pass the night, which I paid for. My guy was stranded, and I had to carry him along. He promised to pay me when we reach our destination.
The next day, we woke up at dawn. We prayed, took our bath and left Calabar, which is 4 hours drive from Ikom. By mid-day, we were at the Cameroonian Embassy in Calabar. Just after we set off from Ikom to Calabar,  our driver was dozing off behind the steering wheel?
It was my pastor friend that continued to tap him whenever his eyes were shutting, till the sleep fled his eyes. So we were briefly interviewed at the embassy and I paid $90 each for both of us.
The Visa officer asked us which part specifically in Cameroon we were going. Both of us mentioned it, and those places were English provinces. Cameroon is not a fully French country. They have about 80% French and 20% English population.
So she asked whether we were aware there were fights and strike ongoing in that part of the country. I said ""yeah, my host has already told me. Immediately, she started condemning the English folks and what they were doing.
The issue they have is that the English speaking people have been marginalised for a very long time. No opportunities for their people.  There are very little developments in their parts of the country. If they ever compete for a job opportunity with the French people, they won't get it. So largely are up in arms for succession.  
They even had a name for their country should they go independent, and that's AMBAZONIA. The sickest of the struggle is seeing a frail Paul Biya in power who can't do anything. The man can't even hold a glass to drink water, but he is ruling them. They've had enough of the marginalization and wanted out.
 The acrimony has grown to the extent that every Monday and Thursday is a "ghost town" in all English territories. Nobody steps out on such days unless you want to meet your death and schools have been shut for close to eight months.
 Each of her accusations followed with vigorous nodding of the head.We just wanted to leave their premises quickly. Interestingly, the watchman at the gate who earlier allowed us entry into the embassy was more inquisitive than FBI. It was as if we were coming from Anas's Tiger eye to gather information. They were very sceptical of us, but gave the visa anyway. 
We took the next available bus back to Ikom to continue the journey. When we reached, I immediately changed my remaining Naira to XAF ( Central Africa common currency) since I wouldn't need them again.
We met Oga Mike around 7pm and set off. At the Nigeria immigration checkpoint on the fringes of the border with Cameroon, we had to pay bribe again to be allowed to cross over.
After crossing the Nigerian checkpoint, we reached the Cameroonian part to face their immigration.
To be continued…