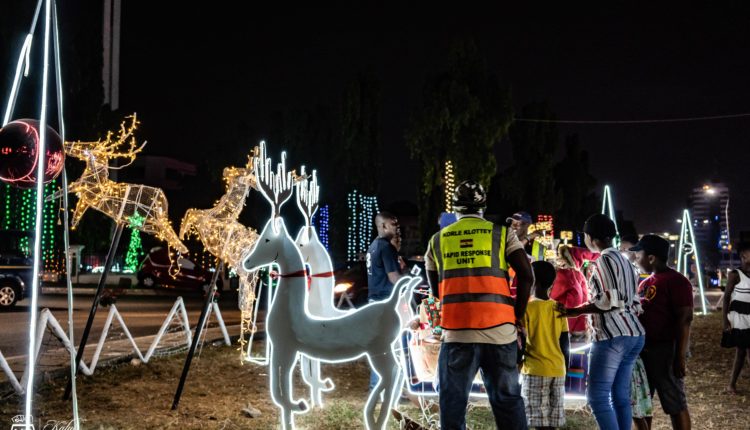 Accra Xmas decors still attracting crowd after yuletide
The dust is settling. The curtain is being drawn on the festive season but the public is yet to have enough of the Christmas decorations that illuminated the Ridge Roundabout in Accra.
The otherwise quiet intersection is now a tourist attraction for scores of people trooping in daily to have a snap of memory.
As of 7 pm on January 4, 2019, a fleet of private cars lined up on the shoulders of the road leading to the Central Business District from Ridge as well as that of the Passport Office.
The Physicians and Surgeons complex, which is usually silent unless there is an event in the night, had to open its car park for the 'tourists.'
"We came from Tema, my children saw the decorations on television and social media. They didn't give me breathing space until I brought them.
"It is a beautiful decoration one that you only see in other parts of the world. I'm glad we came," Mrs Cindy Quaye told theghanareport.com
For others, although the visit is not a planned one. The visual feast at the location made them stop to feed their eyes.
"What I like about it is the blending of our local and western décor. It makes it very creative and not just copying from elsewhere. It should become an annual thing," Mr Patrick Danso said.
Celebrated Ghanaian photographer, Kafui Praise, was herself one of the latecomers to the party and captured these exciting images.