Ahwoi explains how Rawlings reluctantly accepted Amidu after Mills ditched Obed Asamoah
Prof. Mills and Martin Amidu
In a sensational new book, NDC stalwart, Prof. Kwamena Ahwoi, has claimed the party's founder, Jerry Rawlings, was not enthused by the flagbearer's choice of running mate in the 2000 general elections.
Prof. Evans Atta Mills who was the NDC flagbearer chose Martin Amidu was his running mate.
In a book titled: 'Working with Rawlings', which chronicles his relationship with the founder of the NDC, Prof Ahwoi stated that, "[President Rawlings] reluctantly gave his blessing" when he was informed about the decision.
Mr Rawlings' favourite was Dr Obed Yao Asamoah who had been the longest-serving foreign minister and Attorney-General of Ghana under from 1981 to 1997.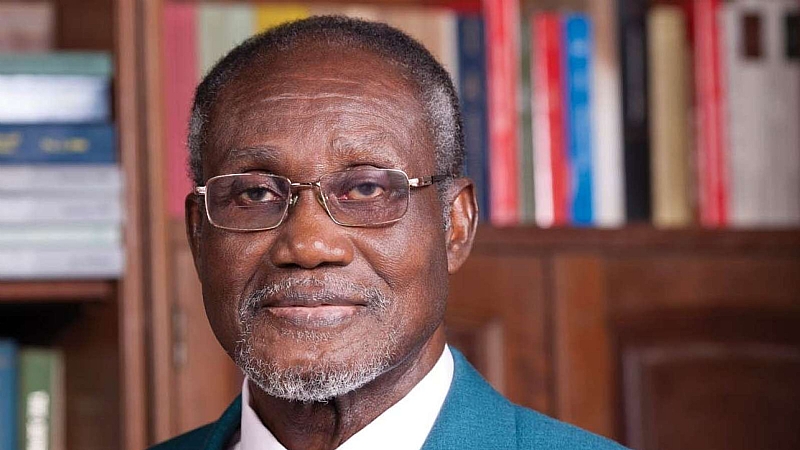 Photo: Obed Asamoah in latter years
But Mills preferred Dr. Obed Asamoah's deputy at the Attorney-General's Office, Martin Amidu.
Prof Ahwoi claimed that Mr Rawlings went as far as imposing Mr. Asamoah on Prof Mills ahead of the 2000 presidential elections.
Rawlings punches a Castle door and broke his wrist after Obed Asamoah was substituted.

Photo: Prof. Mills and Jerry Rawlings
In Chapter 6 page 152 of the book. Prof Ahwoi narrated that there rumours of Rawlings pushing for a Mills-Asamoah ticket.
"Rumours also abounded that the Rawlingses had already convinced Professor Mills to accept Dr Asamoah as his running mate, to which Professor Mills had reluctantly agreed.
"The final rumour was that President Rawlings had already communicated this understanding with Professor Mills to Dr Obed Asamoah and that the latter was busy lacing his shoes in readiness to assume the position," Prof Ahwoi wrote.
According to him, many people reacted negatively to the rumour of an Obed vice-presidential candidacy because they felt that Obed would not be an appropriate choice because he was inflexible and a little too self-opinionated.
"Part of the rumours turned out to be true, but part turned out not to be true," the book revealed. "For whatever reason, and it appeared this was a strategy conceived by President Rawlings, Rawlings got Professor Mills to be the one who broached the subject of having Dr Asamoah as his running mate to him".

Photo: Prof. Kwamena Ahwoi
Prof Ahwoi stressed that President Rawlings informed Professor Mills that he wanted to discuss the subject with some "comrades" of his.
These "comrades" turned out to be Mr Daniel Ohene Agyekum, Mr Kofi Totobi-Quakyi and Prof. Ahwoi.
"This development was rather interesting because Professor Mills had confided in the three of us that President Rawlings was trying to impose Dr Asamoah on him, but that he was very uncomfortable with the idea and very reluctant to accept him for the following reasons:
• Dr. Asamoah was his lecturer at the Faculty of Law at the University of Ghana and it would be difficult for him as his former student to give [Dr Asamoah]
instructions if the latter became his Vice President;
• Dr. Asamoah was older than him and the same problem would arise should he accept the imposition;
• Dr. Asamoah was rather abrasive in his style and uncompromising in his views and he wanted to avoid any possible clashes in the leadership".
So when President Rawlings summoned them to discuss the issue, "We already knew Professor Mills' position and had marshalled arguments to counter President Rawlings' position. Ohene Agyekum was our spokesman and his argument against Obed's candidacy went as follows:
'Mr. President, in 1992, you, an Ewe from the Volta Region, ran with Arkaah, a Fante from the Central Region. In 1996, you, an Ewe from the Volta Region, ran with Mills, again a Fante from the Central Region. If in 2000, Mills, a Fante from the Central Region should run with Obed, an Ewe from the Volta Region, the others within the NDC will begin to question whether there were no persons with leadership qualities in the other ethnic groups and the other eight regions'".
"Jesus!" exclaimed President Rawlings, followed by an expletive, Prof. Ahwoi recounted.
He narrated that Mr Rawlings even "punched the nearest castle glass door with his fist and sustained a sprain which put his wrist in a Plaster of Paris cast for the period of the campaign".
Prof Ahwoi continued with Rawlings' response: "Why haven't I thought of this? Gentlemen, you are right. Obed will be the wrong choice. It is true I have already told him his candidacy was a 'done deal'. I will have to go and undo what I have done" or words to that effect. And with that, the "Obed for Veep" agenda was effectively scuttled".
The surprise choice of Martin Amidu as running mate
Prof Ahwoi further noted that when they returned from the meeting to brief Professor Mills about the outcome of the meeting with President Rawlings, Prof Mills gave them an assignment to help find a suitable running mate.
However, "at that time, the uproar over the Reform defection was raging. Martin Alamisi Burnes Kaiser Amidu was one of the founding cadres of the revolution and was very much respected by the young 'revolutionaries' who were leading the Reform Movement.
"His name had also been linked to the Movement, though never openly, and he was rumoured to be attending meetings with them."
"At the suggestion of Kofi Totobi-Quakyi, we made the following
calculation: 'Why not dangle the running mate bait before Martin Amidu? If he swallows it, he is likely to deflect the Reform defection or at worst to split their ranks'.
"This calculation was put before Professor Mills who agreed that it should be tried. Martin Amidu was informed and he excitedly swallowed the bait. So, Martin Amidu became the NDC Vice presidential candidate for the 2000 elections".
Former President John Agyekum Kufuor, however, beat the late Prof Mills in the polls.