Ajumako Enyan Essiam NPP parliamentary candidate begins 400 street lights project
The New Patriotic Party (NPP) Parliamentary Candidate for Ajumako Enyan Essiam Constituency, Dr Rashid Etuaful, has launched a campaign to light the constituency with 400 LED streetlights and 4,000 bulbs.
The gesture began at the Ajumako campus of the University of Education, Winneba, with the tertiary institution receiving 50 of the streetlights over the weekend.
"I noticed that Ajumako Enyan Essiam Constituency has a lot of lighting issues. So, to improve security, I launched the 'Let the be light project," Dr Etuaful said, in a bid to liberate the constituents from darkness and safety challenges.
The university's management and the Student Representative Council (SRC) received the items.
They described the intervention as timely as most places on campus had been facing challenges from poor lighting.
They thanked Dr Etuaful's team for the benevolent gesture and promised proper maintenance of the items to serve the university for an extended period.
The team will distribute the rest of the lighting equipment across various principal streets and institutions before April 2020.
Before the donation, Dr Etuaful had already started the 'Operation Basic School Hygiene' project, having realised that school-going children did not have bowls and cutlery under the school feeding programme in the constituency.
He aimed the distribution of over 4000 bowls and cutlery at improving eating conditions and eliminating situations where pupils consume meals from polythene bags and other unhygienic food containers.
The team also educated the pupils on basic hygiene practices to prevent common diseases associated with poor sanitation.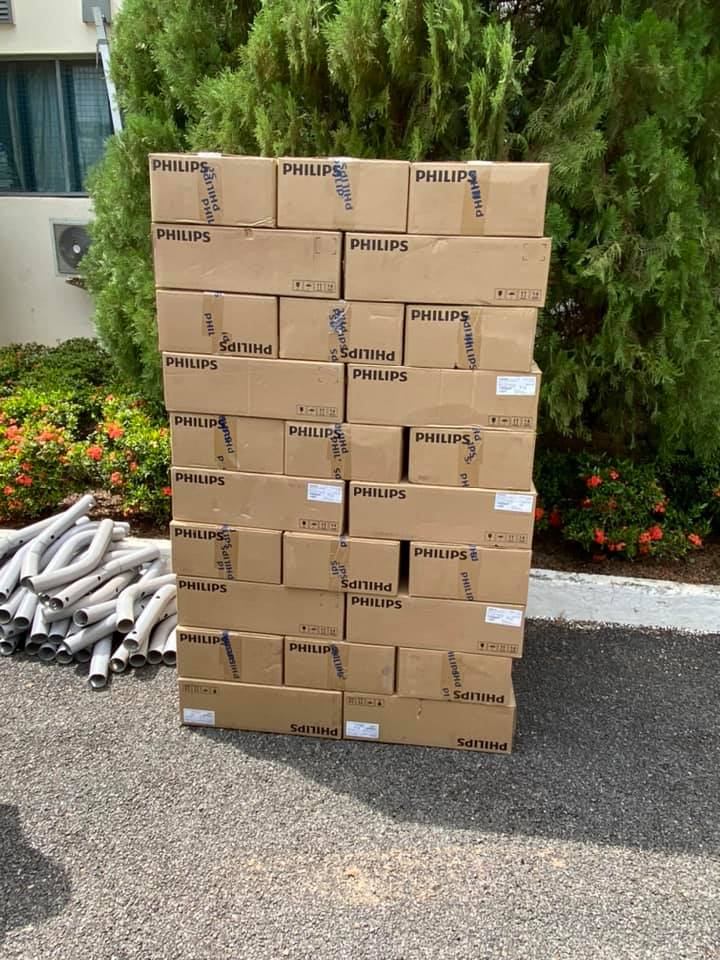 Other projects by Dr Etuaful include the iKER Medical Care and Health Campaign.
Under the health campaign, renewal of the National Health Insurance Scheme (NHIS) subscriptions for about 5000 beneficiaries in the constituency was undertaken at the beginning of 2020 "so people can easily have access to medical attention," he said.
The iKER Medical team, which comprises physicians, laboratory technicians, optometrists and others, was launched on 13 February 2020 at Breman Essiam Community. About 1300 beneficiaries were provided with free health screening, including malaria tests, blood pressure, blood glucose, hypertension, eye examination, urine examination and medication provided for beneficiaries with various ailments.
Due to the high number of health conditions detected, Dr Etuaful is establishing the iKER Medical Centre for "those who cannot be treated on the spot". The facility will be accessible on Tuesday, Fridays and Sundays for persons on a referral who will be "treated for free" at Enyan Denkyira.
The mobile medical team will visit all 198 communities in the constituency and is scheduled to be in Ajumako on Monday, 9 March 2019.