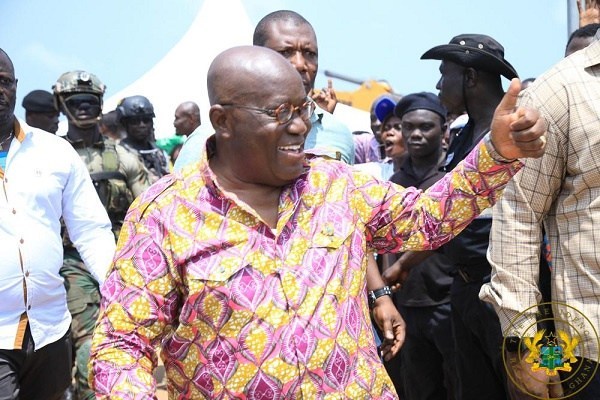 Akufo-Addo begins two day tour of Volta Region today
President Nana Akufo-Addo will today begin a two-day tour of the Volta Region.
The tour will begin with a meeting with the Regional Security Council.
The President will then proceed to Adaklu and Akatsi to inspect infrastructural projects and also attend the 30th Anniversary of the Akatsi District Assembly.
President Akufo-Addo is also expected to visit the Volta Star Textiles Company limited amongst other engagements.
Fix Volta Road campaign
Major road projects such as the famous Eastern Corridor Road, the dualization of the Ho Major Roads and the Ho-Aflao roads are in terrible conditions and are barely motorable.
A social media campaign with the hashtag #FixVoltaRoads got social media flooded with pictures and videos of some of the worst parts of the bad roads in the Region.
This was to mount pressure on the government to pay attention to the bad roads in there.
The group earlier gave the government several ultimata to bring the contractors back onto the roads but to no avail.
Roads being fixed ahead of President's visit
Meanwhile, ahead of the President's visit, work has resumed on some main roads in the Volta Region.
Agitations have been rife over the past few months with social media campaign #FixVoltaRoads, to mount pressure on the government to pay attention to the numerous bad roads in the region.
Among the very bad roads are the Eastern Corridor Road, Ho-Aflao Road, as well as the Sogakope Bridge, among others.
Some residents in the Ho Municipality of the Volta Region tell Citi News that they expect the President to among other things, address the issue of bad roads during his two-day tour.
"Potholes that are on the major roads that we have been crying over are now being filled. I don't know the intention behind that. But what I can say is that it is a way of deceiving the President in the first place so he has a feeling that he is working. But, I am expecting that his coming to the region should serve as a call point for him to see how deplorable our road networks are in the region."
Another said:
"We want him to address the issues of bad roads. About a month ago, we had campaigners calling for contractors to come back on our roads. But after all that, we have not seen any contractor. It shows that the government is not listening to the people."