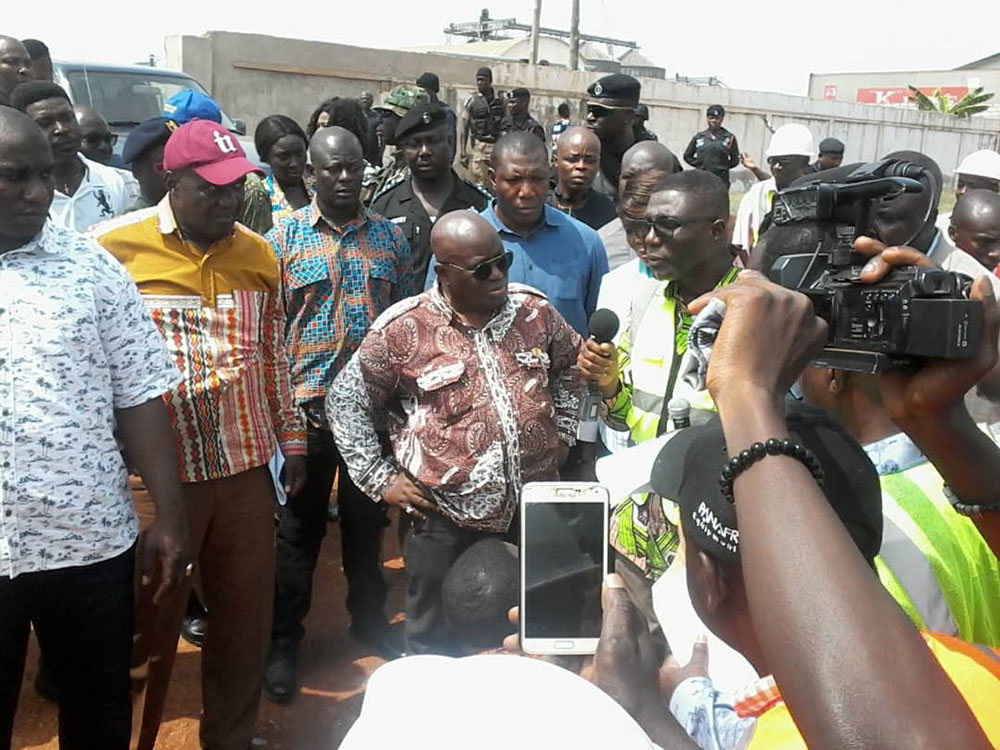 Akufo-Addo inspects Tema interchange project
President Nana Addo Dankwa Akufo-Addo has expressed satisfaction with the progress of work on the interchange being executed at the Tema end of the Accra-Tema Motorway.
President Akufo-Addo gave the commendation when he inspected the project as part of his tour of the Greater Accra Region on Tuesday.
He urged the contractors to keep to the timelines and ensure they deliver as expected.
The Minister of Roads and Highways, Mr Kwesi Amoako-Attah who accompanied the President said the $60million interchange is to replace the roundabout to help ease traffic on the Accra-Aflao highway and the Tema- Akosombo road.
He said the project, which commenced in July 2018 is expected to be completed in June of 2020.
The interchange project is being executed by Messrs Shimizu-Dai Nippon Joint Venture (SDJV), with CTI Engineering International Co. Ltd as consultants.
It is being funded with a grant from the Japanese International Cooperation Agency (JICA).
The Project Manager, Mr Yujin Uemura who briefed President Akufo-Addo said work was progressing steadily within schedule.
President Akufo-Addo also inspected work on a 5.4-kilometre road from the Tema Steel Works Junction through the offices of the Driver and Vehicle Licencing Authority (DVLA) to the Tema Oil Refinery (TOR) Junction.
The project, financed by the government of Ghana is being undertaken by Messrs Joshob Construction Company and Lemef Construction Limited, both local companies.
The Project Manager, Mr Kwabena Bimpong who briefed the President said work began in June this year and is expected to be completed in December 2019.
At Bankuman in Tema New Town, President Akufo-Addo cut sod for works on the partial reconstruction of selected roads including a 22 kilometre road in the area.
source: Graphic Online