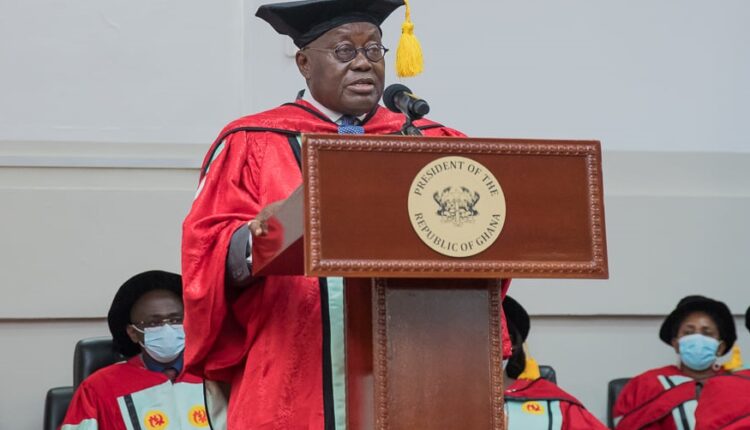 Akufo-Addo rejects 'culture of silence' tag
President Akufo-Addo has said that there is no gagging under his regime to suggest suppression of dissenting views.
The government has been accused of attacking press freedom with comments from some prominent Ghanaians suggesting a growing culture of silence.
In a speech that seemed to be a response to comments by Statesman Sir Sam Jonah about a creeping culture of silencing views, President Akufo-Addo said, "The means to get your voice heard has never been so democratised as now and long may it last".
Even though former President John Agyekum Kufuor has said that the claims of Sir Sam Jonah should not be dismissed or discredited, President Akufo-Addo said there was no "midnight knock on the door in Ghana for authors of dissenting views, nor will there be during my presidency".
He was speaking in Central Region on Saturday, May 29, after the University of Cape Coast honoured him with a Doctor of Philosophy in Educational Leadership.
President Akufo-Addo was convinced "it is part of my makeup, and, when it comes to the freedom of the press, I am certain I have nothing to apologise for with reference to anything I have ever done or said".
He alluded to the outlawed Criminal Libel Law which he said he had championed its removal.
"I have been a part and, sometimes, led the struggle for individual rights and freedom of the press in this country. I believe in it," he insisted.
He said nothing he had seen or experienced would make him change his long-held views on the importance of fundamental human rights.
"I have worked with civil society organisations and used their platforms to engage in famous arguments, healthy debates and I am not averse to the occasional controversy that is a necessary part of public life".
"I have said so and I will say it again that I will much rather that we had a reckless press than a sparing one", he added.
In his view, the atmosphere in the country is one of spirited conversation and debate among politicians, the business community, civil society organisations, and ordinary citizens through print, radio, television or in particular, social media, whether they are home or abroad.
He was quick to note that everyone cannot have a say on a matter "except members of the government and officialdom. Nor can it be that challenging an opinion expressed by a journalist constitutes an attack on press freedom".
"What I believe may be lacking sorely in our society today, is the need to listen to each other more. Knowledge has never been a gift granted exclusively to one group. We must listen, and hear each other more".
"And, for me, personally, I find it ironic that the Presidency of a man who has been and continues to be the most vilified political figure of his generation can be accused of presiding over a culture of silence.
"I belong to the Danquah-Dombo-Busia political tradition, one whose forebears, at great personal sacrifice, fought for the democratic, open, free system of government we are enjoying today in Ghana. They propagated the concept of democracy at a time when it was not, in Africa, a fashionable concept. Indeed, the philosophy of the New Patriotic Party (NPP) coincides with that of the Fourth Republican Constitution. It is the dominant political philosophy in the world today, and has stood the test of time," he concluded.
What did Sam Jonah say?
While delivering a speech at a public lecture with Rotarians in Accra under the theme; 'Down the Up Escalator: Reflections on Ghana's Future by a Senior Citizen' on April 22, 2021, Sir Sam Jonah remarked that the culture of silence was slowly creeping into the country through convenience, hypocrisy and parochialism.
"It appears to me that in recent times in our Fourth Republican dispensation, the courage to stand up for the truth and the determination to uphold the common good is lost. In our dark moments as a nation, it is concerning that the voices of the intellectuals are receding into oblivion. Sadly, it is a consequence of the deep partisan polarisation of our country such that everything is seen through the lenses of politics."
"It appears to me that the culture of silence has returned. This time not enforced by legal and military power but through convenience, parochialism, hypocrisy, and a lack of conviction. Where are our Adu Boahens and PV Ansahs?" he said.
Reaction by others
Former President John Agyekum Kufuor noted that he was in no position to say there was no culture of silence in Ghana.
However, "For a man like Sam to speak the way you have cited him as saying, suggests that he has some evidence".
"They say freedom is not handed on a silver platter. Sometimes you fight for it. This is part of the uses of the media, to dare to speak up to uphold public interest… Sam [Jonah] has said it and Sam is very responsible and a high member of the community. [I want] to say that it should not be treated casually. He might have something he is advocating [for], and it is not for me to dispute him. Just saying, when you allege, you prove it. You don't put it all on the government as such," Kufuor said.