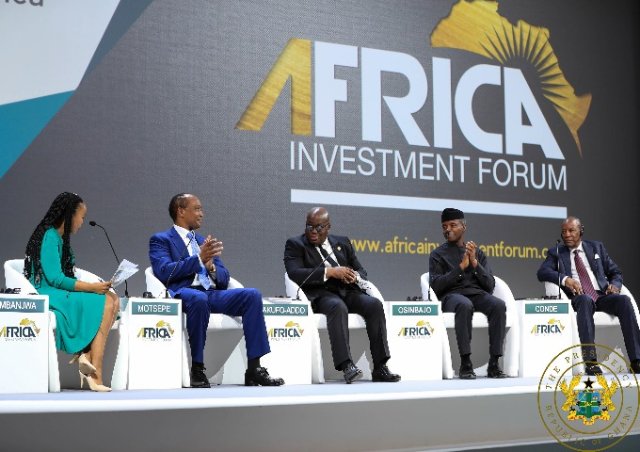 All corruption allegations against my appointees were investigated – Akufo-Addo
President Akufo-Addo has said so far, all allegations of corruption leveled against his appointees have been investigated by independent institutions mandated to carry out such investigations.
He said in addition to the establishment of the Office of Independent Prosecutor, in the fight against corruption, "there is also the attitude of those of us who are in office."
"or instance, if members of my administration are indulging in corrupt acts, any time an allegation is made, I have seen to it that it is investigated," he explained.
The President continued, "so far, investigations have not yielded any evidence (of appointees indulging in corruption), but it is important that it is known that people of my administration will be subject to scrutiny if they go off schedule."
He said this on Thursday when he spoke as a panelist on "Championing Investments: Presidential Investment Chats" at the ongoing Africa Investment Forum, organized by the African Development Bank, in Johannesburg, South Africa.
A section of the audience
It will be recalled that the allegations against the then Minister for Energy-designate, Boakye Agyarko, at his parliamentary confirmation hearings were subjected to a bi-partisan probe in Parliament, which ended up exonerating him.
Again, allegations made against the then CEO of BOST, Alfred Obeng, to those levelled against the two Deputy Chiefs of Staff, and against the then Deputy Minister for Youth and Sports, Pius Enam Hadzide, and the Board Chairman of the National Sports Authority, Kwadwo Baah, were investigated by the Criminal Investigation Department of the Ghana Police.
Additionally, claims of extortion against the Trade Minister were investigated by a bi-partisan committee of Parliament, for which Alan Kyerematen was also exonerated.
Together with others, President Akufo-Addo indicated that "they have all been investigated, and no evidence has been adduced to suggest mildly the perpetration of any act of corruption."
source: Myjoyonline