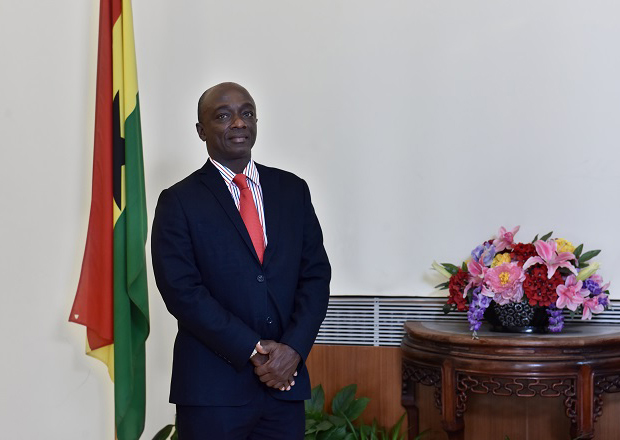 Ambassador Edward Boateng writes: Reflections from Beijing – A year on
A year ago, on 12th July 2017, I presented my credentials to President Xi Jinping, marking the beginning of my official tenure as the representative of the President, His Excellency Nana Addo Dankwa Akufo-Addo and the good people of the Republic of Ghana in the People's Republic of China. I should, once again, express my heartfelt gratitude to President Nana Addo Dankwa Akufo-Addo for choosing me out of the estimated 30 million Ghanaians, as his envoy to China. I must admit that this was quite a surprise because the world of diplomacy is not one that I had ever envisioned or aspired to, though my Chinese hosts always seem not to believe when I tell them I am very new in this field.
My year in China thus far, has been profoundly educational and enlightening to put simply. I have had the opportunity to travel to 15 provinces and many cities and towns outside Beijing, each with their distinct cultural traditions and diverse economies. My exploration of the various regions of China has offered very unique experiences that have exposed me to China's regional growth engines that vary from province to province.
From what I have observed, China's model of regional decentralisation forms a crucial part of its status as a priority market that is growing at a rapid rate. Its impressive development trajectory is being driven by local-level growth patterns and it is now better off than at any time in its modern history. It is indeed a privilege to have a front row seat to witness its continued transformation and progress. Within 40 years, China has been able to completely restructure its economy to become the second largest in the world and is expected to surpass the USA economy by the year 2025. At the forefront of innovation and now one of the most technologically advanced nations in the world, China certainly serves as a veritable benchmark for developing nations such as Ghana to emulate.
I believe that we can use China as mirror to reflect on how we can achieve a similar successful development path. Not too long ago, China was a purely agrarian society and today it is a major economic and technology powerhouse that has been able to maintain distinct aspects of its rich culture.
Over the course of a year, I have had the opportunity to meet with many companies and several leading academics, media, business and political leaders. I have observed that a combination of good policy decisions starting from the "opening up" legacy of Deng Xiaoping, a strong manufacturing base, investments in human capital, prevalent discipline and the fear of castigation, a serious approach to problem solving at all levels of society, unceasing innovation and business growth and the expansion of infrastructure in my opinion, are some of the key elements that underpin China's remarkable success story.
The status of the Chinese economy in its 68th year, serves as a source of inspiration for the numerous Ghanaian officials who have visited China during my tenure. Other African states which are working towards redirecting their development trajectories are also increasingly looking at China as a key reference point for jumpstarting and transforming their economies. A country that has benefited immensely from this close cooperation in my opinion is Rwanda, which has picked up from the ashes of the genocide in the 1990s to become the reference point of transformation across almost all sectors in Africa today.
China has long expressed its firm commitment towards Ghana via diversified and yet pragmatic development models and I believe it can play an active role as our foremost transformational and development partner through sharing its own valuable experiences. It is a One Belt, One Road (OBOR) Initiative also presents new diplomatic and economic opportunities for Ghana and when implemented, could completely transform our trade sector by connecting Ghana to new markets across the globe. China's emphasis on intensive infrastructure development especially in the transport sector, could play a major role in supporting government transformational initiatives such as the One-District-One-Factory by opening up important transport routes for marketing our domestic products. Ghana-China relations can certainly be leveraged for mutual benefit.
I see a lot of possibilities for fast understanding of the Chinese way of doing things especially through the promotion of more people to people contacts and cultural exchange. After a year of living here I believe there are some things that would benefit us the most if we should decide to learn from them: use of time as a resource and determinant (we must appreciate that some of our problems require immense thinking through before we hit implementation and some of these solutions cannot be hastily achieved within one or two electoral cycles. We need time); their problem-solving mentality and analytics (me thinks our educational system should be totally retuned to focus on more technical disciplines, but we need time to do that), discipline of purpose and confidence in one's cultural/traditional and humanistic values.
It has been a year of a steep learning curve. Luckily for me I am in China where the pace of change is unbelievably fast, and, in some instances, I am learning with my hosts. It has also been helpful that they believe it is possible for a country like Ghana to be transformed into a technologically developed and modernized economy within a generation; they have their own example and they know and they tell me every day it is doable. It has been interesting to watch at close proximity the ease with which the Chinese have retained their cultural confidence as they make rapid technological advances.
I am not sure how much progress I have made in learning to be a "diplomat", I find I still say it as it is and I am still startled when I am referred to as "H.E.". It is an interesting journey.