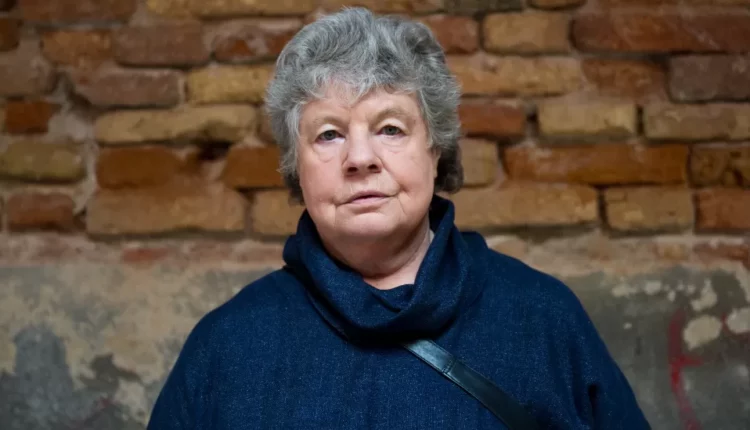 AS Byatt: Author, critic and poet dies aged 87
Novelist, critic and poet Dame AS Byatt has died at the age of 87, her publisher has announced.
The renowned writer, whose full name was Antonia Susan Byatt, won the Booker Prize for her 1990 novel Possession.
In a statement, Penguin Random House said they were "deeply saddened" to announce her death.
They described her as "one of the most significant writers and critics of our time".
The author was appointed CBE 1990 and was made a dame nine years later.
In 2018 she received the Hans Christian Andersen Literature Award. Dame Antonia's work was translated into 38 languages.
Penguin said: "She died peacefully at home surrounded by close family. A girl from Sheffield with a strong European sensibility, Antonia had a remarkable mind which produced a unique creative vision."
Dame Antonia was also known for writing 2009's the Children's Book, which was shortlisted for the Booker Prize.
Her most recent publication was a collection of short stories – 2021's Medusa's Ankles: Selected Stories (2021).
"Antonia's Quaker schooling encouraged a clear independence of thought, and throughout her career she had an unerring ability to ask direct and searching questions," Penguin said in their statement.
"Her novels showed a profound engagement with history and historical consciousness – and an understanding of the traditions in which she wrote – whether folktale or novel.
"And if her fiction offered an imaginative realm of ideas, it was also warm and engaging, and filled with unforgettable characters."
Time-jumping story Possession tells the story of the love between two Victorian poets that is uncovered by scholars in the modern age.
The book was adapted for a 2002 romance mystery movie of the same name starring Gwyneth Paltrow, Aaron Eckhart, Toby Stephens and Tom Hollander.
The writer was also known for works such as Angels and Insects and The Frederica Quartet, which consisted of The Virgin in the Garden, Still Life, Babel Tower and A Whistling Woman.
Dame Antonia was born in 1936 and grew up in Sheffield and York. She studied English at Newnham College, Cambridge, Bryn Mawr College in Philadelphia and at Oxford.
She began teaching at University College London in 1962, and published her first novel, Shadows of a Sun, two years later.
Her younger sister is the novelist and biographer Dame Margaret Drabble.
The pair's relationship reportedly came under strain due to autobiographical elements in each of their books, and Dame Antonia often declined to discuss their relationship with interviewers.
Dame Antonia has three daughters. Her only son died in 1972 in a car accident aged 11.
A poem she later wrote, Dead Boys, described how a child is perpetually present after their death, at every age, to their mother.
Tracy Chevalier, author of books including Girl With a Pearl Earring, was among those paying tribute on social media, writing: "RIP AS Byatt, your books have given us all such pleasure."