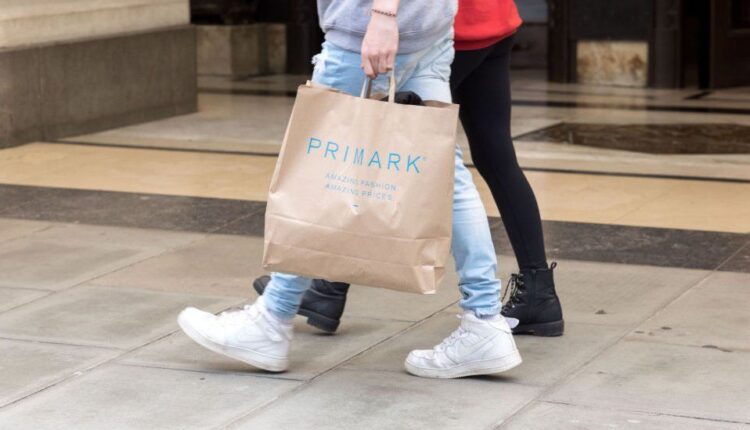 Asos and Primark set out new green pledges
Fashion firms Asos and Primark have announced new sustainability commitments, with both saying they will keep prices affordable.
Asos says it is aiming to achieve a net-zero impact on the environment by 2030.
Primark says its clothes will be made using recycled or "more sustainably sourced materials" by the same date.
The budget retailer has also promised to halve carbon emissions across its operations.
Critics warned, however, that these goals will be hard to track as fast-fashion supply chains often lack transparency.
On Thursday, Asos set out new environmental and social targets. They include:
Reducing carbon emissions generated by its clothes production and deliveries
Ensuring all of its own-brand products are made from sustainable or recycled materials by 2030
Giving customers more information on its supply chain
Recruiting a more diverse workforce, including 50% female representation across its leadership team
Its chief executive, Nick Beighton, told the BBC's Today programme: "We need to work with our partners on this to offset any minimal cost increases we anticipate from doing this."
He added that he expects more consumers to choose to shop with Asos based on those commitments.
"The responsibility for a sustainable future lies with all of us and businesses must lead the way," he said.
In a statement, Primark also said it would design its clothes to be more durable so they can be recycled and last longer – without increasing its prices.
It said it would "pursue a living wage for workers in its supply chain", but did not specify how much this wage would be in the countries where it has employees or when this would happen. Primark has 397 stores across 14 countries and employs about 70,000 people.
The company's chief executive, Paul Marchant, said: "Sustainability shouldn't be priced at a premium that only a minority can afford.
"Because of who we are, we believe we have the opportunity to make more sustainable fashion choices affordable to all."
Primark said it would eliminate single-use plastics in its own operations, but it does not own the majority of factories which manufacture its clothes.
Entry-price T-shirts
However, Noelle Hatley, lecturer in fashion business at Manchester Metropolitan University's Fashion Institute, said that using language such as "ambitions" and "pursuing" was vague.
"They need to be setting measurable targets, how many suppliers and factories and by what date will living wages be paid?"
Over the next year, Primark said it would make all men's, women's and kids' entry price point T-shirts from sustainably sourced cotton.
But Ms Hatley said that "without transparency of costings it is difficult to know how they can achieve this as the fast fashion business model relies on 'unsustainable' or 'below real cost' prices".
Though she said the announcement is encouraging, Ms Hatley added that if prices are being maintained, it "would be good for them to share how they are achieving this; for example, are they accepting a lower margin, or is the factory being paid the same for what could be more expensive materials?"
Kate Fletcher, research professor at the Centre for Sustainable Fashion at the University of the Arts London, said that the problem of fast-fashion is volume and questions remain about how Primark is going to put limits around how many pieces it produces.
"The real change comes with the detail not in the commitments and aspirations," she said.
"What I'd like to see are details on what the real and living wages would be in different countries."
Rana Plaza fire
Primark was one of a number of retailers that attracted strong criticism in 2013 after more than 1,100 workers were killed in the Rana Plaza factory in Bangladesh.
The Irish firm – which was one of 23 brands being produced at the garment factory – extended payments to victims and families affected. A worker in a Bangladeshi factory typically earns around 10p an hour.
It was one of the worst industrial accidents in recent memory and prompted more scrutiny of working conditions in garment factories.
The global fashion industry produced an estimated 2.1 billion tonnes of greenhouse gases in 2018, and uses more energy than both aviation and shipping combined. It also accounts for nearly 20% of waste water.
Asos was also criticised in a recent report by the Royal Society of Arts (RSA) that found that more than a third of items listed on its website were made entirely from new plastics.
The RSA pointed out that Asos had performed better than other firms such as Boohoo and Missguided, but said that fast fashion firms had more work to do.
In the UK, citizens buy more new clothes than any other European country and an estimated 350,000 tonnes of clothes end up in landfill every year.