At least 7 out of 10 localities did not benefit from free water policy – Statistical Service
The Ghana Statistical Service (GSS) has revealed, at least seven out of 10 localities did not benefit from government's free water policy meant to mitigate the impact of coronavirus.
For subsidized electricity, 25% of localities did not enjoy the government social intervention.
For electricity, this is because these localities were not connected to the national grid, and for water, because localities relied on other alternative sources of water and were not served by the Ghana Water Company Limited (GWCL).
This was contained in a Local Economies Tracker by the GSS in collaboration with the United Nations Development Programme (UNDP).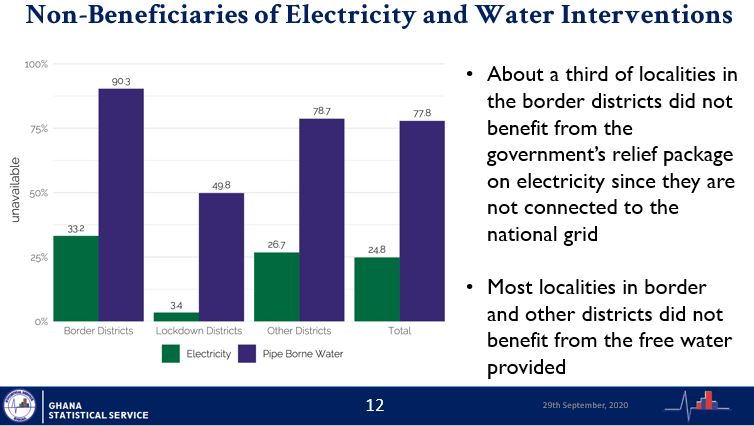 This was conducted using a sample of 2,770 communities across the 16 regions of the country.
Out of the total number of localities surveyed: 554 of them are in districts that were in lockdown areas; 1,169 were in districts that share international borders with other countries (border districts), and 1,047 were neither in lockdown nor border districts (other districts).
It was undertaken from May to June 2020 and data was collected from key opinion leaders to understand the effect of COVID-19 on the local economy, particularly in localities in border districts, lockdown and non-lock down areas.
His comments come after President Akufo-Addo announced that government had absorbed the water bills of all Ghanaians for the next three months over the coronavirus outbreak in the country.
With regular handwashing a key preventive measure against the infection, President Nana Akufo-Addo announced a free water programme in April.
Government absorbed water and electricity bills for consumers from March, April, and May.
This was later extended to the end of 2020.
The government intervention came on the back of complaints that a greater portion of Ghanaian homes did not have running water, which undermined the World Health Organisation safety protocols of hand-washing under running water.
In April, the government in response to the needs of industry and a section of the public announced an electricity relief package for Ghanaians.
The President at the time indicated that "the government will fully absorb electricity bills for the poorest of the poor."
He explained that "for all lifeline consumers, that is free electricity for persons who consume zero to 50 kilowatts a month for this period."
Finance Minister, Ken Ofori-Atta stated in his Mid-Year Budget review that initiative cost the government GHC 1.02 billion.
When the government announced the water extension in September, Deputy Minister for Water Resources & Sanitation, Patrick Yaw Boamah, estimated that the total cost to the government would be GHC 750million.
The GWCL has at least 550,654 customers in all urban areas. The number represents 77% coverage of urban Ghana.
A 2019 report revealed, the GWCL averagely produces 192 million gallons per day. This is 57 million gallons less than the daily demand of 249 million gallons per day.
Rise in crime
The survey results also revealed that localities witnessed an increase in crime during the country's COVID-19 lockdown period, with about three out of ten communities (34.1%) experiencing a rise in crime, such as theft and burglary.
This was followed by an increase in domestic violence (3.7%) and assaults (3.1%) in communities.
Lockdown localities saw the highest (47.1%) increase in crimes.
READ ALSO: