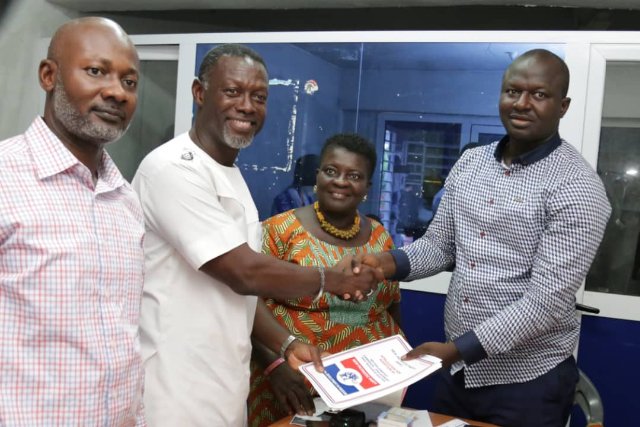 Ayawaso West Wuogon primary: 'I withdrew because of Agyarko's wife' – Kufuor's son
Reverend Edward Agyekum Kufuor, son of former president John Kufuor, says he dropped out of the New Patriotic Party's (NPP) Ayawaso West Wuogon poll out of respect for the late Member of Parliament and his widow, Lydia Alhassan.
Reverend Agyekum Kufuor on Tuesday announced his withdrawal from Saturday's poll citing personal reasons.
But at a press briefing last night, the actor said he stepped down because he was uncomfortable contending with Lydia Alhassan in the same race.
"I decided after the vetting where I saw Madam Lydia, based on the regard I have for the late MP, felt uncomfortable contending with her [Madam Lydia]. I respect the man, I appreciate what he has done, and I look up to the man. I felt I had the capacity and I still do have the capacity, I felt it would have been okay for me to stand on his shoulders to build on the good works that he had accomplished. But when I came to the realization that she was in the race, I had a change of mind," he explained.
Rev. Kufuor also clarified that he wasn't forced to drop out of the race.
"I wasn't pushed out. I wasn't prevailed upon. I dropped out from my own conscience," he added.
He again stated that his withdrawal should not be interpreted as support for Madam Lydia Alhassan.
"The playing ground should be open. I'm supporting everyone, I'm supporting the party. What is happening now is bigger than any one person. It is about the party maintaining the seat. It's not about one person. However the delegates will now go forward and decide who they want. So my support is for the party and may the best person win," he added.
His withdrawal means five persons will contest the seat including a Deputy National Communications Director of the NPP, Mame Yaa Aboagye, Madam Victoria Esinam Ansah Offei, Assembly Member for Legon Electoral Area, Samuel Amankwah, a former constituency youth organizer, and Lydia Alhassan, a widow of the late MP for the area, Emmanuel Agyarko.
The Electoral Commission has set Thursday, January 31, 2019, as the date for the Ayawaso West-Wuogon constituency by-election.
The date was agreed at an emergency meeting of the Inter-Party Advisory Committee (IPAC) on Monday, December 24.
Three contesting for NDC ticket
Meanwhile, the National Democratic Congress (NDC) has set 28th of December for its primaries ahead of the by-election.
Three persons successfully filed their nomination to contest on the ticket of the NDC.
The three are Ekwow Acquah, Delali Kwasi Brempong and Madam Donna Selassie Agbo.
Three other candidates, Alhaji Isaah Kamara, Madam Catherine Abrokwa Mante and Kojo Twum Boafo, failed to file their nominations before the party's deadline.
Source: citinewsroom