Belgorod: Shelling in Russian border region kills two, governor says
Two women have been killed in shelling by Ukrainian forces in the Russian border region of Belgorod, its governor has said.
Vyacheslav Gladkov said the victims were hit by shrapnel as they were travelling in a car near the village of Maslova Pristan.
Officials in the neighbouring Bryansk and Kursk regions said buildings had been damaged in shelling and an overnight drone attack.
Ukraine has so far not commented.
However, Kyiv has denied involvement in previous attacks across the border, which it says are carried out by Russian anti-government groups.
In Belgorod, Mr Gladkov said two men travelling in another car had been seriously wounded in the shelling.
He added that nine people had been injured in the region in the past 24 hours.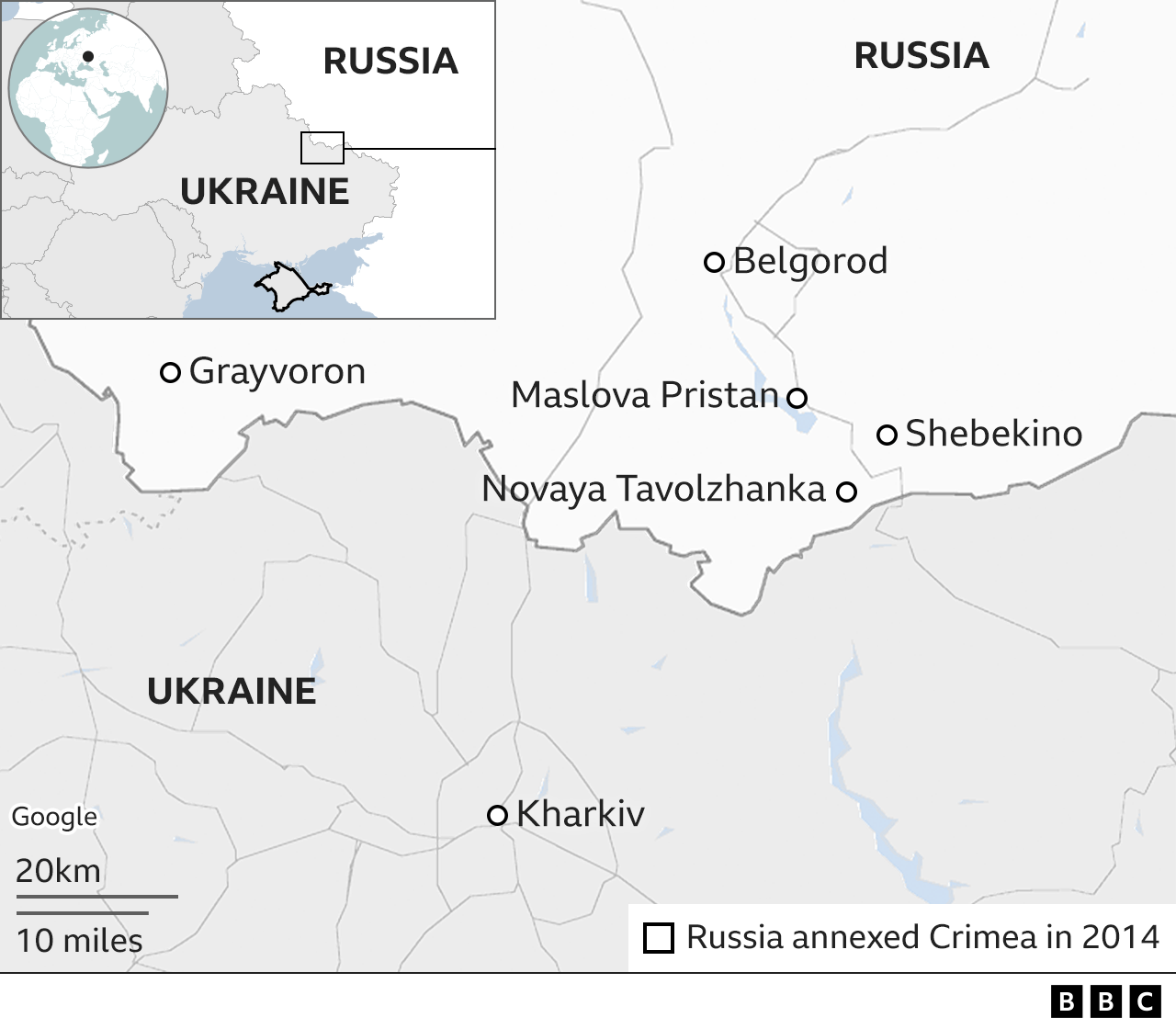 Meanwhile, one of the most prominent anti-Kremlin paramilitary groups, the Liberty of Russia Legion (FRL), said it had been engaging in military operations in the nearby village of Novaya Tavolzhanka.
In a post on social media on Friday morning, it said two civilians had been killed after the Russian artillery mistook their vehicle for a car containing FRL members.
The FRL said "active fighting" continued on the outskirts of Novaya Tavolzhanka, admitting that there were injured "legionnaires".
Neither claim has been independently verified.
Long-range drones also hit two towns in the Smolensk region, the local government there said, while the Kaluga region's head said an explosion had been reported in a forest.
Recent weeks have seen an increase in cross-border attacks by the FRL and the Russian Volunteer Corps (RDK), another paramilitary group.
Last month, the two groups carried one of the most significant incursions – targeting the border towns of Shebekino and Grayvoron – since Russian President Vladimir Putin launched a full-scale invasion of Ukraine in February 2022.


Who are the Russian anti-Putin paramilitaries?
The Russian Volunteer Corps (RDK) came to prominence in March 2023, taking part in a cross-border raid in Russia's western Bryansk region. The group's leader is known as Denis Kapustin or Denis Nikitin, a Russian nationalist, who a Ukrainian investigative website alleged had links to neo-Nazi groups. Mr Nikitin has described himself as a patriot with "traditionalist" views and the RDK accuses Russia's mainstream opposition of sitting on the fence in the Ukraine war.
The Liberty of Russia Legion (FRL) is a very different organisation which fights alongside Ukrainian troops. The group uses a white-blue-white flag, seen by part of the Russian opposition as the flag of "free Russia". Arguably the FRL's best-known soldier, Caesar, has insisted "there are no people in the legion who were forced to join it" and all members were contract soldiers with Ukraine's international legion.