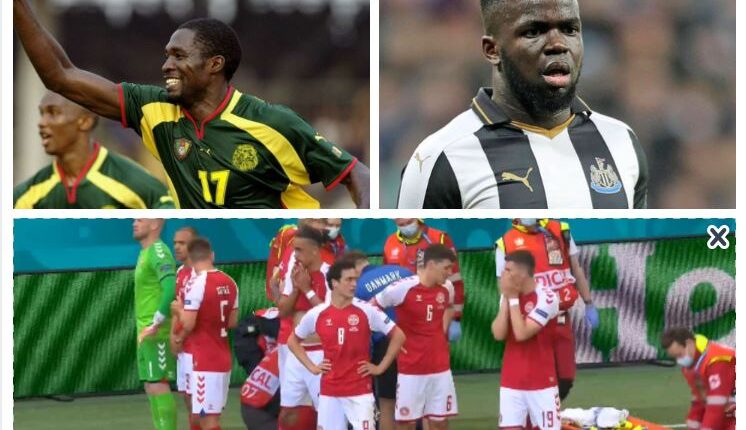 Black West Africans Are Predisposed To Cardiac Arrest – Sports Physician
A sports physician and medical expert with the Confederation of African Football (CAF) Dr. Prince David Kofi Pambo, has said that Black West Africans are more likely to suffer from cardiac arrest.
Speaking to Joy News on the collapse of Danish international footballer Christian Eriksen during Denmark's group opener against Finland, Dr. Pambo indicated that the lesson to be learned from the incident was more urgent in the case of Black West Africans.
"It is very important that we learn from what happened [to Eriksen]. It has happened to many, many Black players before. I don't want to go into so much detail but for Blacks in this part of the world…West Africa…we are genetically predisposed to cardiac arrests," the doctor said on Monday morning.
It is not clear which examples Dr. Pambo had in mind but there have been a few high-profile deaths of African footballers via cardiac arrests.
Only a week ago, English side Newcastle United commemorated the fourth anniversary of the death of their former Ivorian midfielder Cheick Ismael Tiote who died during a kickabout while playing in China.
June 26 will also mark the 18th anniversary of the death of Cameroonian footballer Marc Vivien Foe during an international FIFA game against Colombia in France. Foe collapsed onto the pitch and died shortly after he was carried away by medics.
But Dr. Pambo was also quick to add that it was also more likely for less active people to suffer or die from cardiac arrests than it is for sportsmen and women.
"The moment he [Eriksen] collapsed, in that very moment, [many more] others would have suffered a similar problem and they are not footballers," the CAF medical expert chipped in.
Black people and heart diseases
In 2019, cardiovascular deaths accounted for slightly more than 5% of all deaths across Sub-Saharan Africa. Five years before that, the American Heart Association concluded that cardiovascular diseases were the number one cause of death for Sub-Saharan Africans over the age of 30.
In America too, Black Americans are more likely to suffer or die from coronary malfunctions than whites or any other ethnic group in that country.
While there is a strong opinion among many medical professionals affirming a causal connection between the Black African race and heart-related problems, others blame the high incidence of heart attacks among Black people on lifestyle choices, including feeding.
Update on Eriksen
On Saturday, June 12, Denmark and Tottenham Hotspur playmaker Eriksen collapsed to the ground in his country's first game at the ongoing Euro 2020 competition.
The incident, which happened toward the 45th-minute mark, held up proceedings for over 10 minutes. English referee Anthony Taylor had immediately signaled to standby medics to rush to Eriksen's aid after the player fell.
TV video shows the 29-year-old taking a few unstable steps before going to the ground rather helplessly. Players of both Denmark and Finland were unable to hide their fears and tears as medics tried to resuscitate Eriksen.
The Denmark team formed a circle around the medics as they attended to Eriksen, perhaps in a bid to shield worldwide cameras from catching their teammate in his vulnerable state.
The game was suspended for about two hours and was later completed with Finland winning one goal to nil.
Meanwhile, Danish football authorities among others, have announced that Eriksen is in a stable condition and has regained self-awareness.