Breast cancer is dangerous, don't shy away from screening–NDC running mate advices women
 The running mate of the National Democratic Congress (NDC) has advised women not shy away from having their breast examined as it can save their lives.
She said early detection could prevent the harrowing pain women go through when the disease reached an advanced stage.
She, therefore, rallied women to regularly have their breast examined when she began her tour of the Volta Region with a visit to a breast screening exercise centre at Juapong in the North Tongu District.
In a month dedicated to breast cancer awareness, Prof Naana Jane Opoku-Agyemang visited the Juapong Hospital where the Member of Parliament for the area, Samuel Okudzeto Ablakwa had organised the screening exercise.
Breast cancer deaths are high in Ghana, with about 2,900 cases being diagnosed annually and at least one of eight women with the disease dying, data from Breast Care International (BCI), a non-governmental organisation dedicated to breast cancer awareness indicates.
Addressing a cheering crowd, Prof Opoku-Agyemang said the NDC planned to use a proposed Cancer and Kidney Fund to support the less privileged.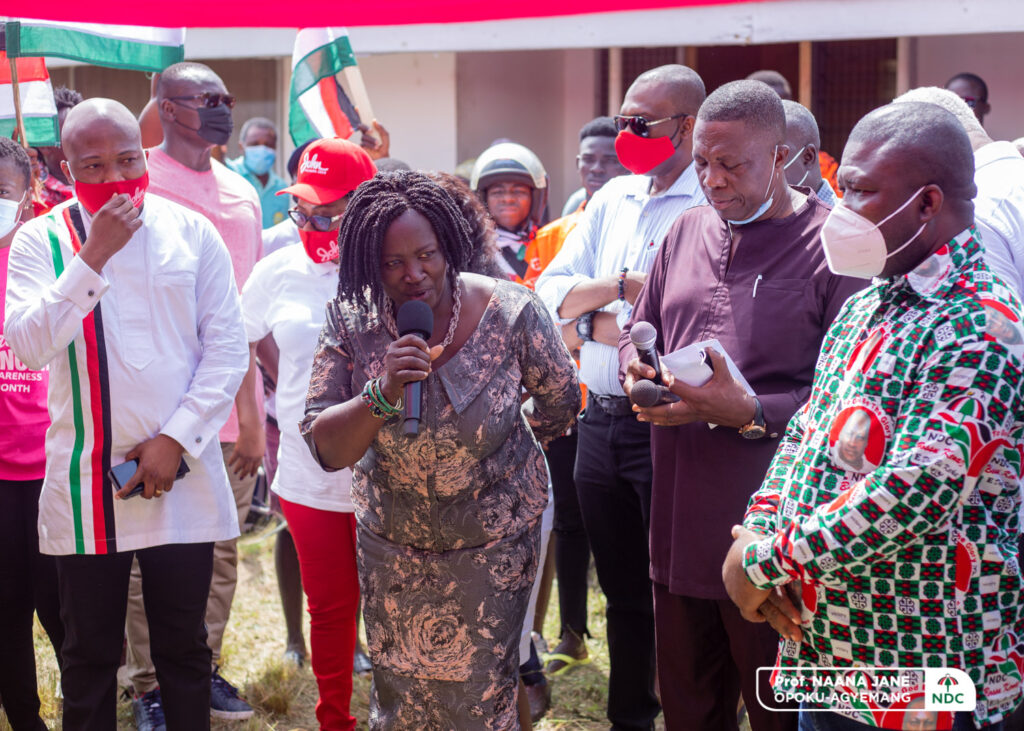 Mr Ablakwa stated that since October was Breast Cancer Awareness month, the vice-presidential candidate of the NDC deemed it fit to be actively involved in sensitizing people on the need to get their breasts checked regularly.
He bemoaned the fact that ongoing projects, including those that were 70% complete before the NDC left office, had been abandoned by the current administration.
He also called for the release of North Tongu residents who had erroneously been arrested by the police in relation to a disturbance that occurred on September 25, 2020.
He rallied his constituents to vote massively for the NDC in the upcoming elections to push development in the area.
According to the World Health Organisation (WHO), at least  2,000 Ghanaian women are diagnosed with breast cancer in annually, and out of the number, about 1,000  representing 50 per cent of the cases, died, showing an increasing danger of complications for women in Ghana and the whole of Africa.
Signs and symptoms of breast cancer include a lump in the breast – the most common first sign. Also, the woman would usually find the lump in the armpit (axilla), changes in breast shape or size, skin changes and nipple changes.