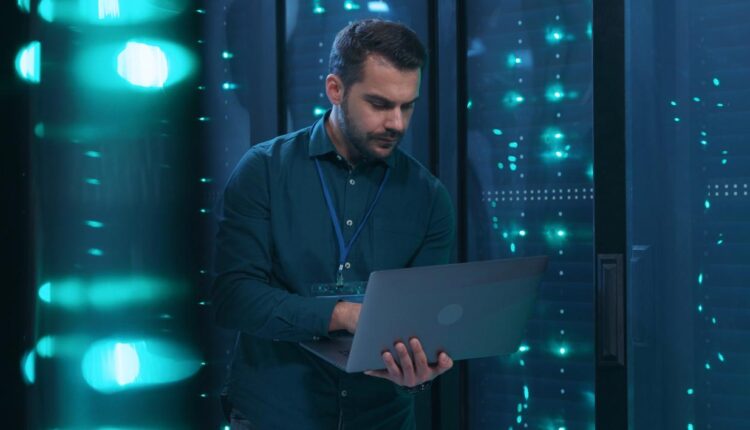 Building a secure IT infrastructure for your business
In today's technology-driven world, a well-designed and efficiently managed IT infrastructure is crucial to support businesses to run their operations effectively. To build a secure IT infrastructure requires rigorous planning and execution because it becomes the backbone which holds a company's operations firmly working. Thus, Information Technology infrastructure or IT infrastructure itself refers to all the necessary components that businesses use to manage their internal operations and provide to services to customers. The components of an IT infrastructure are the hardware, software, network resources, and services that are required to maintain, operate, and administer a corporate IT system.
Indeed, the growth of IT infrastructure's support function to businesses has been established by the recent Information Technology Global Market Report. The annual report revealed that the global information technology market grew from $8179.48 billion in 2022 to $8852.41 billion in 2023 at a compound annual growth rate (CAGR) of 8.2%. The information technology market is further projected to grow to $11995.97 billion in 2027 at a CAGR of 7.9%.
IT Infrastructure Components
Typically, one way to look at the components of an IT infrastructure is from the ground up. That is, starting with the hardware or physical devices that foster the operations of the digital ones. A hardware comprises an assortment of computers, servers, routers, data centers, switches, a dedicated room and other related facilities which are necessary to support the basic functioning of the machines constituting the infrastructure itself. A software on the other hand refers to all the applications and programs that businesses use to organize, control, and maintain their internal and external processes. Software generally includes operating systems (OS), web servers and any other applications or a customized software. Concerning networking, it refers to the assembly of routers, servers, hubs, switches, and cables that string everything together to establish an internet connectivity and communication between internal and external systems. Additionally, a network infrastructure also includes a firewall and security arrangements that protect against the risk of data loss.
Developing the Infrastructure
An adaptable, reliable, and secure IT infrastructure provides a support function to a business to enable it to also serve the public. An IT infrastructure invariably helps a business to automate processes, gather data in real-time to make quick decisions, improve communication, boost productivity and thereby ensures uninterrupted service to customers. If an IT infrastructure is not properly set up, your business may face poor connectivity, low productivity, and a weak security such as system failures and breaches. It has also been established that profitability and competitive advantage or otherwise of a business partly depends on how well its IT infrastructure is implemented to play the crucial support function.
An IT infrastructure can either be traditional or cloud-based. The traditional IT infrastructure is owned and managed by the organization itself and requires physical space and power to maintain it. Cloud-based IT infrastructure is a modern alternative that allows automatic software updates, better remote support, and access from multiple locations. Nonetheless, the traditional IT infrastructure is the logical starting point for small businesses because it is relatively cheaper. That said, the following guidelines can help you to build a reliable and secure IT Infrastructure to support your business operations. These guidelines even though they are not cast in stone or gold standards can help to deploy resources wisely.
Planning & Procurement Stage
The planning stage is one of the single most important steps of the entire process. Indeed, having a good plan in place before purchasing, installing, testing, and finally utilizing your IT infrastructure ensures value for money. This stage involves the assessment of your businesses' IT needs and budgeting to enable you explore different brands and technology options. An assessment of IT infrastructure needs must consider factors like the number of users, scalability, support options, long-term viability and any industry-specific requirements. It is also important at this stage to consider environmental factors and assess the temperature and humidity levels of the space to ensure that they are within the recommended ranges for network equipment. With regard to procurement, it is important to identify reputable dealers and choose hardware components based on the specific needs and the budget.
 Installation Stage
The installation stage can be a daunting task but getting a robust IT infrastructure installed in a clean, efficient, and manageable way is what matters most. This stage involves hardware setup and network configuration. At this critical stage of the process, the focus is largely on how to install, configure and mount network devices in appropriate locations while bearing in mind accessibility, ventilation, and security of the network after the installation.
Testing Stage
At this stage, you must conduct functionality testing, security testing and the user acceptance testing ((UAT) on your network after the installation. By functionality testing, you verify that all the hardware and software components are functioning as intended. It also entails testing network connectivity, data storage, and backup and recovery procedures. Security testing is to conduct thorough cyber-security checks for vulnerabilities and to implement the necessary measures to protect your business's sensitive data. It is also necessary to install reliable cybersecurity tools to detect and respond to possible threats and aid a system's recovery.
Documentation & Maintenance Stage
This is where you document the network installation, including network diagrams, device configurations, network address and other key infrastructure elements. This phase also involves the creation of a network maintenance schedule and outline procedures for regular monitoring, updates and backups.
Training & Security Awareness
This goes beyond the User Acceptance Testing (UAT) which involves engaging employees in testing the IT infrastructure and training them to effectively utilize the new systems. Training regime also provides a platform to discuss common security risks and practical ways to prevent them. Since employees are the first line of defense against possible attacks, it is appropriate to keep them well-equipped with the relevant skills to detect and respond to threats effectively. This approach can significantly help secure your business's IT infrastructure and minimize security breaches.
Establish Solid IT Policies
Aside from raising security awareness and enlightening your team members of potential risks and threats, you could further boost employee participation in safeguarding your IT infrastructure by establishing IT security policies and the best practices for securing critical business data and the company's network. This involves ensuring controlling or limiting user (employee) access to the network through installing retinal and fingerprint scanners, using two factor authentication(2FA), encouraging the use of facial recognition software and adhering to all network and data encryption standards among other measures.
Conduct an IT Audit Regularly
One of the best ways to ensure that your IT infrastructure is secure is by auditing it regularly. This form of auditing is a proactive approach since you get to check and ascertain if there are any gaps or defects in your systems. This could also be beneficial in assessing the technology you currently have and how it can be more efficient and robust. Ultimately, system audit can give you an insight into your IT infrastructure by allowing you to make well-informed decisions that could benefit your business.
Conclusion
In the fast-paced evolving technological world and its impact on business operations, a planned decision to invest in an IT Infrastructure could define the sustainability of a business. In that regard, it is critical to follow laid-down procedures when building an IT infrastructure to make it reliable and secure. An IT infrastructure plan should also be backed with a training regime for stakeholders to manage the risks. In the same vein, regular policy reviews and periodic auditing and internal control exercises will ensure all the components of an IT infrastructure are robust to support business's long-term growth.
BERNARD BEMPONG 
Bernard is a Chartered Accountant with over 14 years of professional and industry experience in Financial Services Sector and Management Consultancy. He is the Managing Partner of J.S Morlu (Ghana) an international consulting firm providing Accounting, Tax, Auditing, IT Solutions and Business Advisory Services to both private businesses and government.
Our Office is located at Lagos Avenue, East Legon, Accra.
Contact: +233 302 528 977
                +233 244 566 092
 Website: www.jsmorlu.com.gh