Bulked-up Joshua at career heaviest for Franklin
Anthony Joshua has weighed in at a career-heavy 18st 3lb (115.7kg) for Saturday's contest against Jermaine Franklin at London's O2 Arena.
Joshua, 33, is 11lb heavier than his last fight – a points loss to champion Oleksandr Usyk in August.
"I've got my gameplan, got my mind right and I'm ready to go for war," said the bulked-up Briton.
American Franklin, 29, weighed 16st 7lb (106.1kg) – 23lb lighter than when he lost to Dillian Whyte in November.
Joshua targets 'explosive knockout'
A heavier Joshua suggests he could be targeting a knockout win, using his added weight and strength. When he is lighter, that often indicates he is prepared for a bout to go the distance.
His previous heaviest weight was 18st 2lb (115.6kg) when he stopped Carlos Takam in the 10th round in 2017.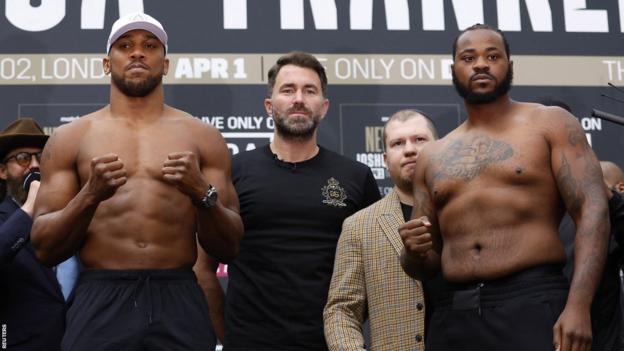 "I know I've got the possibility of doing it," Joshua said of a knockout. "But there's a process to get there. I just follow the process."
The Watford-fighter has shown signs of fatigue in later rounds of previous championship fights – and there has been much debate surrounding his weight in recent years.
After losing to Andy Ruiz Jr in June 2016, Joshua came in at 16st 13lb (103.5kg) for the rematch and outboxed the Mexican-American over 12 rounds.
Joshua, who based his camp for this fight in Texas, has spoken of the gruelling methods under new trainer Derrick James.
"There's always an over-analysis with his weight, but clearly he's come in with bad intentions for this fight," said promoter Eddie Hearn. "In some fights, where you need speed and agility, he comes in lighter. But tomorrow night I think you're going to get an explosive knockout." Franklin – for all his attributes, resilience and durability – is not considered a technically-astute boxer. With 14 knockouts in 21 wins, nor is he necessarily considered a heavy hitter.
The Michigan boxer has shed the pounds and, at Wednesday's news conference, he credited his improved physique to a healthier lifestyle.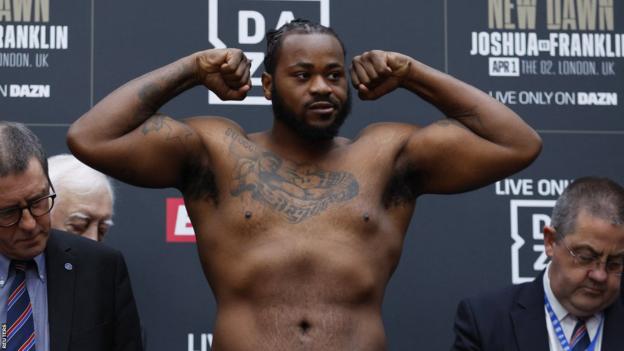 "We've approached this fight with a whole new attitude, a whole new demeanour, a whole new strategy," said Franklin.
"He probably bulked up a little bit but we're ready for whatever. We've got a chin of steal."
No drama, no controversy – Analysis
Such is the pull of Joshua, there was no venue close to the O2 Arena big enough to deal with the number of people eager to catch a glimpse of the two-time world champion.
Instead, Westfield London shopping centre in Shepherd's Bush was the chosen location.
Fans lined up on the balconies overlooking the atrium, joined by shoppers passing by, or people evading the rain outside.
Franklin's friends and family made their voices heard as he took to the stage and Joshua followed, to huge cheers.
A confident-looking Joshua fist-bumped promoter Eddie Hearn and saluted the crowd.
There was no real drama or controversy – and Joshua will hope that is the case on Saturday night as he bids for victory.
The pressure is on the 2012 Olympic gold medallist to deliver a knockout performance. His heavyweight rivals will be watching – and the British public will be expecting.