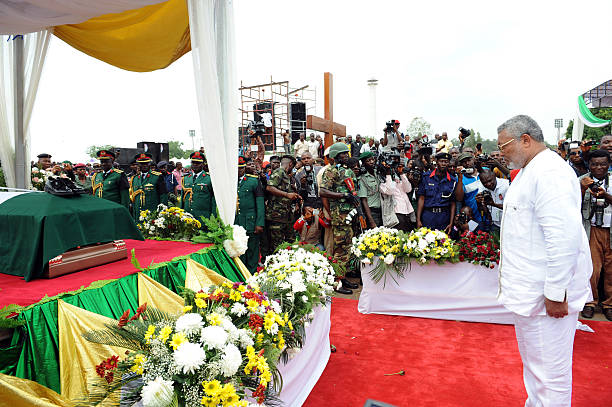 Bury Rawlings in Keta- family demands
The families of the late former President J.J. Rawlings want him buried at Keta, the coastal community in the Volta, where he hails from.
Speaking to the media in Keta shortly after his death, Spokesperson for the Agbotui, Nyaho, Husunu and allied families, Paul Badu said burying Mr. Rawlings Keta soil would be appropriate and resonate with their wishes.
He said it would be an honour for the departed former President who led Ghana from 1981 to 2001 to be buried in the region.
Although born to a Scottish father and a Ghanaian mother, Victoria Agbotui, who was laid to rest on October 19, Mr Rawlings had over the years claimed Keta as his hometown.
When his mother died last month, she was laid to rest at the popular coastal town in the Volta Region.
Jerry John Rawlings died in the morning of Thursday, November 12, 2020, at the Korle Bu Teaching Hospital.
He died at the age of 73, leaving behind a wife, Nana Konadu Agyeman-Rawlings and four children.
Mr Rawlings had in the past expressed worry about the disappearing lands in Keta caused by sea erosion.
On October 3, this year, the former President  charged the government to scale-up efforts to protect coastal towns, especially Keta, from being washed away by the sea.
Mr Rawlings, who was mourning the death of his mother at the time, was concerned that failure by the government to act will leave some territories without any lands for use.
"My grandmother and some uncles would have been buried in Keta but the landlessness or the erosion caused by the sea has claimed many homes and family graveyards," he bemoaned.
Under the regime of former President Rawlings, the government got a $92m loan for sea defence projects.
The Keta Sea Defence wall which protected three communities cost $52m.
It costs about $90m for each 10km section of sea defence and lack of funds have prevented successive governments from extending the defence along the entire coas
RELATED: