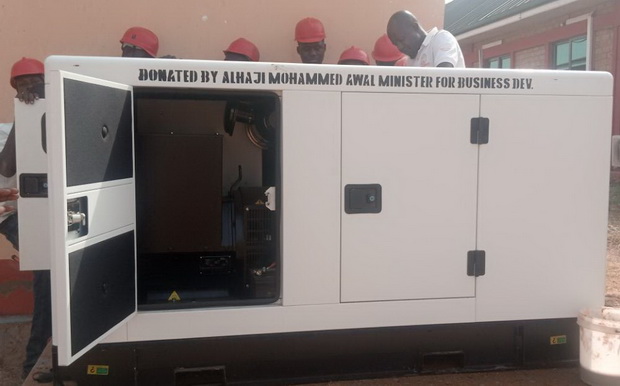 Tamale Nurses & Midwives Training College gets GH¢120,000 help from Business Dev't Minister
The Minister for Business Development, Dr Ibrahim Mohammed Awal has donated a 50KVA generator to the Tamale Nurses and Midwives Training College (NMTC).
The generator which cost GH¢120,000.00 according to the Minister, was to facilitate adequate power supply and enhance stability of power in facilities in the school.
Presenting the generator to the school on Monday, the Minister indicated the need for the generator was brought to his attention upon his visit to the school some months back to see how the school was faring.
"The principal made some complaints that they needed some help to increase the intake of the school and to improve the quality of teaching and learning. And the immediate concern was lack of generator, which affected their examination", he said.
He stated that the generator was going to improve the power capacity of the school and to further enable the students write their examinations without the usual power interruptions.
Dr Awal added that the principal made an appeal for a pick-up vehicle to facilitate movement and running of the school activities, which he promised he was going to procure for the school.
He however urged the principal and the entire staff of the Tamale NMTC to put in much more effort to enhance quality health training and to further increase the intake of the school.
Examination
The Principal of the College, Mr. Abdulai Abdul-Malik after receiving the donation, indicated that the Nursing and Midwifery Council (NMC) examination was conducted online which made it necessary for the school to have a stable power supply during the examination period.
The Principal said during the examination, the NMC preferred laboratories that were connected to generators other than the national grid to prevent power interruptions.
"With the national grid, there are interruptions that come without prior notices, but with the generator the power is always stable which makes the examination smooth", the principal said.
Gratitude
Mr. Abdulai Abdul-Malik expressed his gratitude on behalf of the staff and students of the Tamale NMTC to the Minister for donating the generator to support the activities of the institution, and further appealed to the government to provide some facilities including hostels and classroom blocks to accommodate the high number of students enrolled.
"The first batch of the Free Senior High School students just came out and the pass rate is high. So in our next intake, there's going to be pressure on the available facilities since the intake rate will be high," he stated.