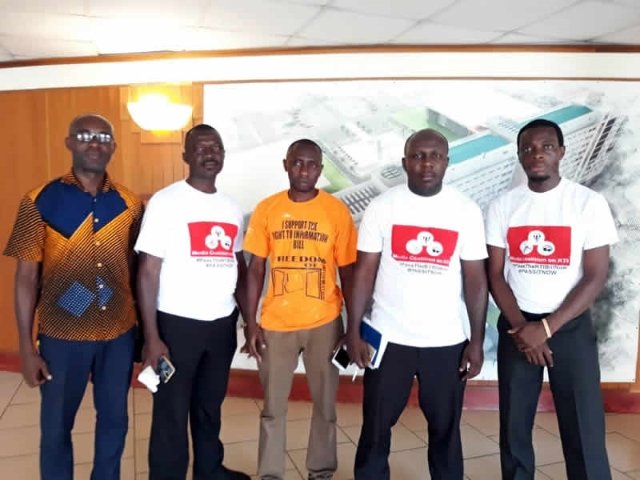 Campaign to get RTI bill passed intensifies despite setback at Parliament
Journalists leading a stern campaign to get the Right to Information (RTI) Bill passed into law remain firm in their fight despite being denied entry into Ghana's Parliament Tuesday.
Security personnel stopped the group of Journalists who make up the Media Coalition on RTI from accessing the chambers of the Legislators.
They had stormed the House on Tuesday to demand the immediate passage of the bill that has been before the Legislators for over a decade.
Right to information is a fundamental human right guaranteed by Ghana's Constitution and recognised as a right under International Conventions on Human rights.
The RTI bill will give substance to Article 21 (1) (f) of the 1992 Constitution which states that "All persons shall have the right to information subject to such qualifications and laws as are necessary for a democratic society".
Branded T-Shirts
Parliament's security prevented the Coalition from entering the House because members were wearing a branded T-shirt, reports Joy News' Parliamentary Correspondent, Joseph Opoku Gakpo.
"They were in white t-shirts with various inscriptions on it. When they were stopped they were escorted to the Police Station in Parliament and from there they were asked to go put their concerns on paper and communicate formally to the House," Joseph explained.
A member of the Coalition, Kwaku Sakyi-Danso said campaigners without the branded T-shirt were able to enter the House to demonstrate their resolve to get the bill passed.
Request
MP for Kumbungu, Ras Mubarak, tried to without success get the matter of the RTI bill for consideration.
"I humbly request that consideration be made so that [the RTI bill] is brought forward as the second item, considering the hue and cry and public interest in having the right to information bill passed," he told the Speaker of the House, Prof Mike Ocquaye.
The RTI Bill should have been considered Tuesday because it was scheduled for consideration, however, Legislators failed to do so.
Meanwhile, Joseph Opoku Gakpo explained that the Parliamentary Committee looking at the bill are currently working on the Companies Act and so have rescheduled the RTI Bill for Wednesday.
Majority Leader, Osei Kyei-Mensah Bonsu has also promised that the House will finish work on the bill before November 15, 2018.
source: Myjoyonline