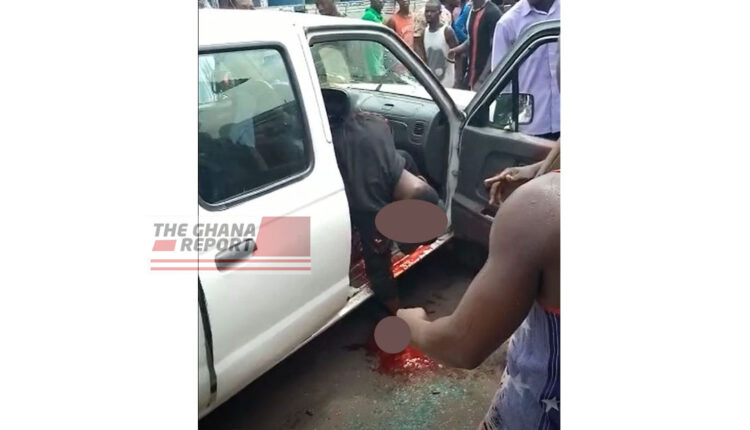 According to the Interior Minister, the police was finding it difficult to apprehend the killers
CCTV owner refuses to hand over footage of bullion van attack
A man believed to be the owner of a closed-circuit television (CCTV) device that captured the MON-TRAN bullion van robbery on Monday, June 14, is unwilling to release it to police.
This was revealed by Minister for the Interior Ambrose Dery, as he appealed to the individual to assist the police in investigations.
The robbery, which occurred at Adedenkpo, a suburb of James Town, led to the death of a police officer, General Constable Emmanuel Osei and a 35-year-old hawker, Joyce Amankwah.
Mr Dery emphasised no individual in the country ought to be killed in such a manner and wants the culprits brought to book.
"This matter should be dealt with as quickly as possible…They say there is a person who owns a CCTV in the vicinity. The police are asking that they be given the recording of the CCTV, but there was resistance from the owner," he disclosed.
He continued: "I want to use this medium to appeal to him to cooperate and to appeal to all those persons who were in the vicinity to assist the police on whatever description or whatever information that they have to enable us to track them (robbers)".
Concerns over the use of bullion vans 
The minister also expressed concern over the kind of protection that banks and other financial institutions provided to transit vehicles that cart their money and the individuals who carry out this exercise.
"What we call bullion vehicles in Ghana are just ordinary vehicles with plates on them which are not armoured," he lamented.
He observed that such vehicles did not provide the police, money and other persons the needed protection, thereby exposing them to easy attacks by armed robbers.
He reiterated the call by the Inspector General of Police (IGP), James Oppong-Boanuh, for banks and financial institutions to ensure they conformed to standardized operational requirement in carting huge sums of money.
"The banks don't get held responsible when we lose policemen. The government does, I do…We expect that in those cases, they (banks) should contribute to protecting the police that we allocate to them," Mr Dery suggested.
Meanwhile, the Ghana Association of Bankers has assured the public that it would comply with the Cash in Transit (CIT) operations of armoured vehicles in carting money.
The Association has also assured that it would continue to work closely with the various security agencies and the Bank of Ghana (BoG) in ensuring adherence to the highest standards in carting huge cash.
The Association has indicated that, it would "Implement an aggressively proactive approach to staying at the forefront of the continually evolving security threats that the banking sector is exposed to."