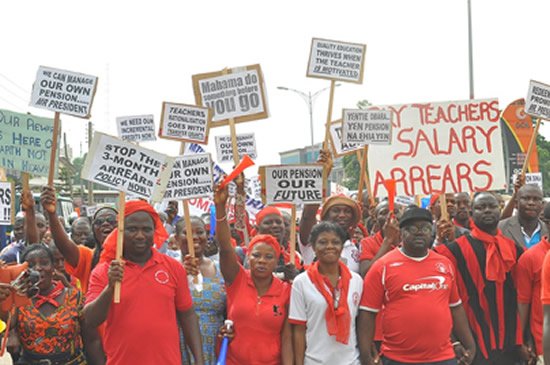 CETAG threatens to protest over book and research allowance
Tutors at the various Colleges of Education across the country are threatening to take actions to push for the payment of their book and research allowance.
The tutors, who are under the umbrella body of CETAG, said they were expecting the payment of the allowance in September but that did not happen.
In January 2019, CETAG and the government signed an undertaking in which the government agreed to pay the allowance in September 2019.
But CETAG said the government has failed to deliver on its part of the bargain.
The President of CETAG, Prince Obeng-Himah, in a Citi News interview said, "The National Executives of CETAG have met today on the unpaid book and research allowance to tutors of Colleges of Education and have resolved that if from 10 days from today the government doesn't pay the book and research allowance to the tutors, we are going to advise ourselves strongly."
He explained that while CETAG was aware that the National Council for Tertiary Education (NCTE) and the Ministry of Education have signed all the necessary documentation for the payment to be effected, the Ministry for Finance and the Controller and Account General's Department are yet to collaborate to ensure that the funds are released to the tutors.
"We negotiated for this package with the government in January this year. We signed the MoU with government in which they agreed to sign the package to pay in September this year. As we speak now, our checks show that the National Council for Tertiary Education (NCTE), Ministry of Education have all finished with the technical things they need to do, to pave way for the payment to be done but it is up to the Ministry for Finance to work hand in hand with controller to ensure that the money is paid."
CETAG, in November 2018 staged a month-long indefinite strike over the non-payment of their Interim Market Premium as well as Book and Research allowances.
They eventually called-off the strike and agreed to stick to a road map to address their concerns.