COCOBOD CEO woos investors for cocoa sector
Chief Executive of Cocobod, Joseph Boateng Aidoo
The Chief Executive Officer (CEO) of the Ghana Cocoa Board (COCOBOD), Joseph Boahen Aidoo, has made a strong case for investors to put their money into the cocoa value chain in the country.
According to him, there are numerous opportunities in the cocoa sector, with a conducive business climate.
"We assure investors that there is a long-term availability of high-quality cocoa beans and a friendly business environment," he said.
He explained that investors could leverage equipment such as slashers, pruners, farm vehicles, and other implements for irrigation purposes.
He highlighted the high demand for machinery due to a gradual shift from crude production methods and processing to mechanised agriculture, mostly among small-scale farmers.
The COCOBOD CEO also stated that there was adequate infrastructure to support investors who would want to venture into the construction of warehouses to augment post-harvest activities.
Mr Aidoo said this during a one-on-one engagement with Citi FM's Bernardino Koku Avle as part of the maiden edition of the Cocoa Value Chain meeting organised by the Ghana Investment Promotion Centre (GIPC) in Accra on Thursday, May 28.
The programme addressed the theme, "Ghana's brown gold: sustaining investments and leveraging the African Continental Free Trade Area (AfCFTA)".
Mr Aidoo also argued that the investors could rely on Ghana's cocoa beans due to the reputation of premium quality globally.
On value addition, he said, "Our focus currently is to do more cocoa processing and promote more consumption of cocoa finished products."
He, however, expressed worry over the level of consumption and highlighted the benefits of cocoa consumption.
"The per capita consumption (average consumption per year) of chocolate and related products in Europe is around 6.12, but that of Ghana is 0.6, and it is so low."
"Cocoa has a lot of health and nutritional benefits; the more cocoa you take, the younger you look. It is good for children, as it enhances their cognitive performance," he said as he urged for an increase in the intake of cocoa products among Ghanaians.
"Our median age is 19.7 in Africa, and we have 170 million middle-class in Africa who have disposable income. It, therefore, means that the prospects are positive," he added.
Meanwhile, the CEO of GIPC, Yofi Grant, remarked that cocoa value addition had been a long-standing national goal, with the country targeting to export 50% of its cocoa as processed products.
The investment banker indicated that AfCFTA avails a platform for cocoa producers to reach a wider market across the region and said, "a lot more value would be gained from cocoa when we all put our wheels together to enhance value addition in the sector."
He argued that it was time for a shift from producing raw beans to more processing, "To showcase the ability to move from where we were, to create the billionaire and millionaires in the cocoa value chain."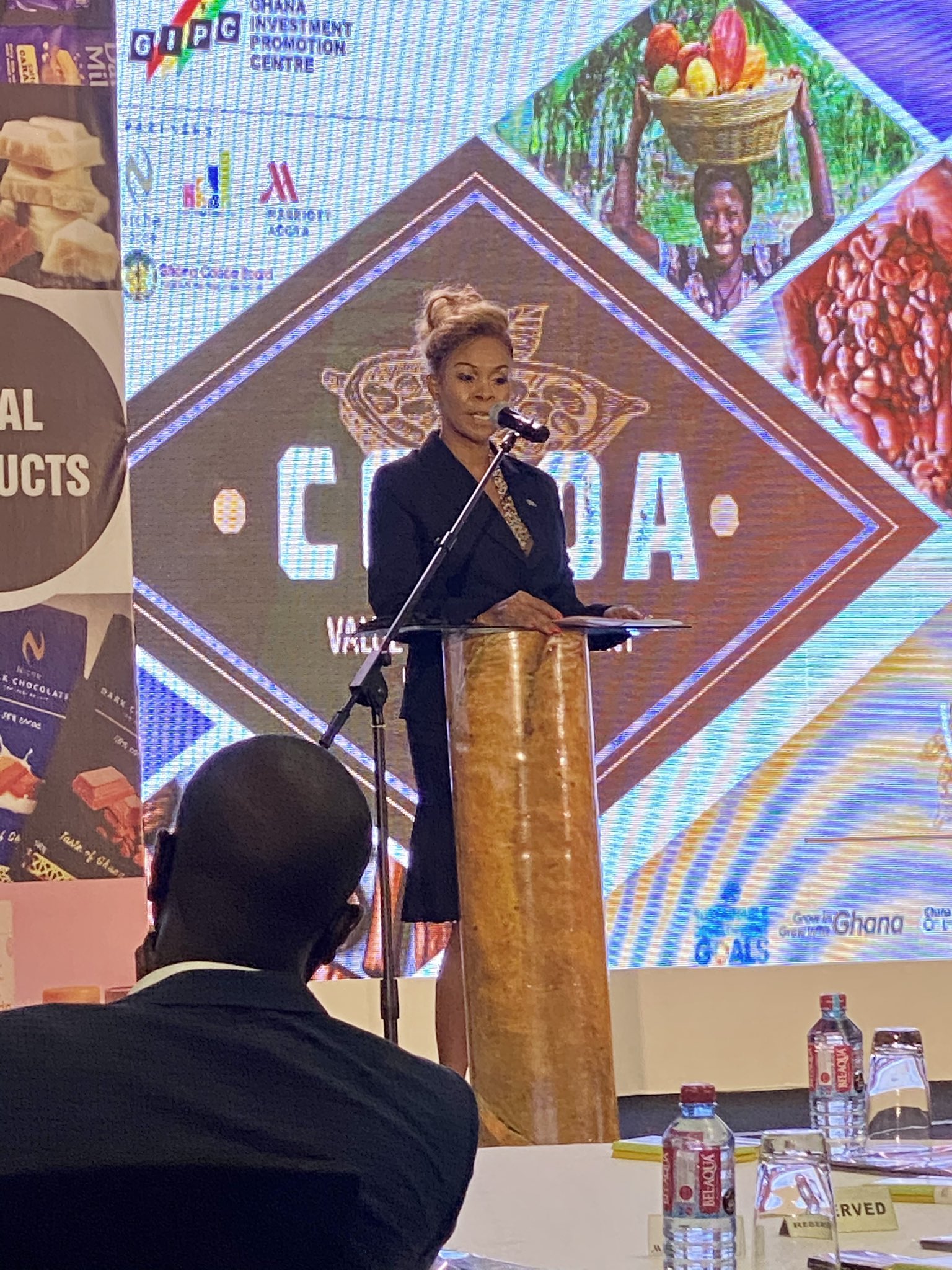 The South African Commissioner to Ghana, Grace Jeanet Mason, emphasised opportunities the continent could gain through AfCFTA.
According to her, "Cocoa has an absolute advantage for Ghana and the region. AfCFTA is at the apex of Africa's agenda, and with Ghana being the epicentre of trade in West Africa, the country is strategically poised for penetration in other markets."
"This is an opportunity for industrialisation, enhancement of trade and investment. Let us work together to build the Africa we want."