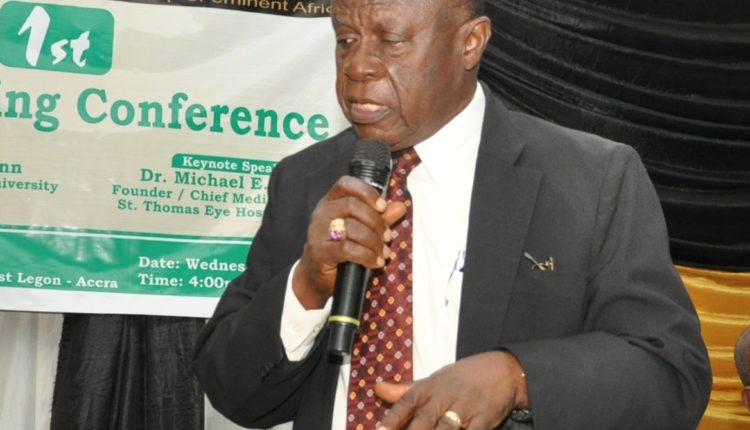 Coronavirus has exposed us. It exposed our lack of emergency response. Our lack of preparedness to deal with an epidemic, even at our level, let alone a global pandemic, such as the coronavirus, which is devouring lives and crippling some of the world's most sophisticated healthcare systems.
Our lack of preparedness reflects in the President's approach to releasing funds to fight the virus. On March 11, 2020, I joined the chorus of Ghanaians who applauded the government for committing $100 million as a war chest to combat the coronavirus fight.
It was at a time the deadly coronavirus was sprinting around the world and leaving in its wake, thousands sick, thousands dead, multitudes in pain and disoriented healthcare systems.
So we applauded the President and repeated it, but that joy was short-lived when the Finance Minister, Ken Ofori-Atta, told Parliament on March 17 that the $100 million the  President Akufo-Addo devoted to fighting the coronavirus pandemic was not yet available.
The government, he told the legislators had applied to the World Bank to tap into the $12 billion Fast Track COVID-19 Facility for Poverty and the $10billion facility managed by International Monetary Fund (IMF) to address the pandemic.
In short, our coffers are dry. The government had forced a medical mirage on all of us, as we watch European healthcare systems collapse like a pack of cards.
Many health experts believe it's just a matter of time before imported cases of COVID-19—most of whom would be relatively wealthy people who can afford to travel—trickle down to the country's most vulnerable communities.
Patients who came from Europe will probably have interacted with Ghanaians prior to their diagnosis, including household helps, who often take crowded commercial buses to their homes in low-income areas—perfect conditions for COVID-19 to spread—an inevitable disaster waiting to happen.
Far from being a doom's day prophet (most of whom have coiled these days), there is everything to show that we are playing with fire and can get burnt.
In the last few weeks, there have been reports of frontline staff of hospitals running away from suspected cases of coronavirus because they lacked the necessary personal protective equipment to work.
Our doctors and nurses need not scramble to find the basic protective gear they need to keep themselves and their patients safe.
Our sad reality is that we do not have enough stockpiled medical equipment like masks, gowns and gloves to fulfil the expected need of the nation's health care system as the pandemic continues.
The President's last address on Sunday, March 22, makes it evidently clear when he said we were now buying 50,000 test kits.
It all bores down to our lack of preparedness.
That said, this coronavirus scare also exposes the government's decision to reduce the number of nurses admitted to training colleges every year. This pandemic will teach us why our country at all times will need a huge corps of trained healthcare professionals who would have to step in fight our healthcare battles.
We've looked at cost, we've probably looked at the allowances we'll pay trainee nurses and decided to trim as lean as possible the numbers we could train.  We need to prioritise the training of health professionals.
Now, as the pressure of a pandemic threatens on our healthcare system, we could be caught napping. Isn't it ironical that the government wants to recruit retired health personnel to face a virus that is wiping away the older generation with a compromised immune system?
Ghana doesn't go to war, but we have an army that is well maintained, armed and ready for unforeseen combats. So in our case, why not recruit young unemployed nurses to be on standby at this crucial moment?
That aside, there is a huge market for nurses out there, depending on how we play our cards.
Throughout Europe, the nursing profession is rapidly losing its appeal. An aging workforce and declining student admission in nursing schools are advancing a looming nursing crisis. That is a potential market for a country (Ghana) that is struggling hard to find jobs for its young people.
The United Kingdom, for instance, expects a nursing shortage within some few years—there lies an opportunity.
In Germany, in an attempt to alleviate the shortage, a health employer's union in Berlin has come up with an idea — enlisting nurses from China. In cooperation with the German Federal Employment Agency, an experimental project recruited an initial 150 nurses from China to work in hospitals and nursing homes from 2014.
Across sub-Saharan Africa, there are countries that need nurses and doctors, so why are we creating a barrier for training more of these professionals?
Another interesting activity that attracted my attention regarding the fight against coronavirus is the fumigation of markets in the country. Great idea, but beyond the markets what happens to the piles of rubbish on almost every street and in every market?
European countries are turning filth into wealth, but here we are struggling to find where to build the next mountain of garbage, we will call landfill site. April 17, 2020, will be exactly three years President Akufo-Addo promised to make Accra the cleanest city in Africa. As things stand, in this era of coronavirus, the city's authorities are struggling to make Accra the cleanest city in Ghana. We need not be told to clear our filth because together with coronavirus, they could be a deadly ticking time bomb that will maim our country, particularly as we enter the rainy season.
The time to do that is now because at its worse, we cannot be saved from the social distancing guidelines we've been espousing. We know the living conditions of our people.  Social distancing may be impossible in crowded slums and poor urban communities, and it's not clear how confinement would work in African households where many generations live together.  How do you protect the elderly, how can you tell village populations to wash their hands when there is no water, or use hand sanitiser their hands when they don't have enough money for food?
God has been on our side so far, but for how long will He continue to tolerate our inefficiency and our inability to protect ourselves through advance preparation and not shortsighted programmes and policies informed only by the next election.
Let's act now for coronavirus has no patience for the weak, the unprepared, the irresponsible and the unhygienic.
The author is the President-General of the West Africa Nobles Forum.