Coronavirus Ghana update: NIA continues registration as government restrict mass gathering
---
Theghanareport.com has dedicated this page for our daily update on coronavirus since Ghana recorded two cases. This page is your go-to-page for relevant and confirmed news on the deadly disease. Stay tuned.
The National Identification Authority continues registration as government restricts mass gathering
The authority has,however, asked its supervising Registration Officers to ensure appropriate queue management.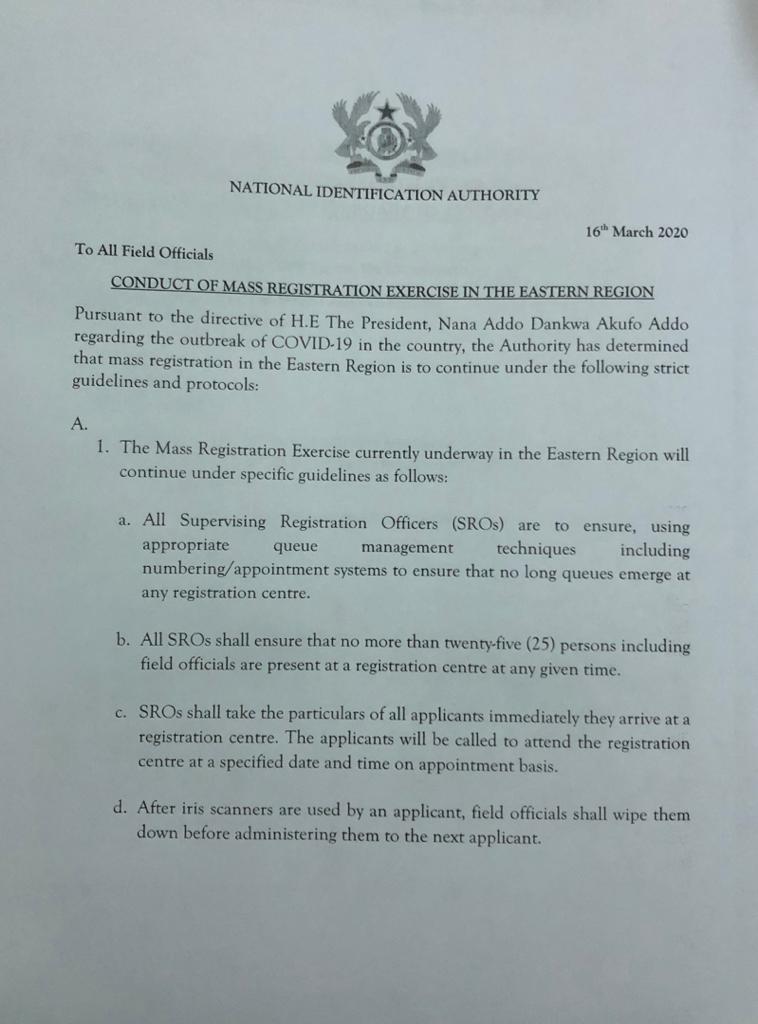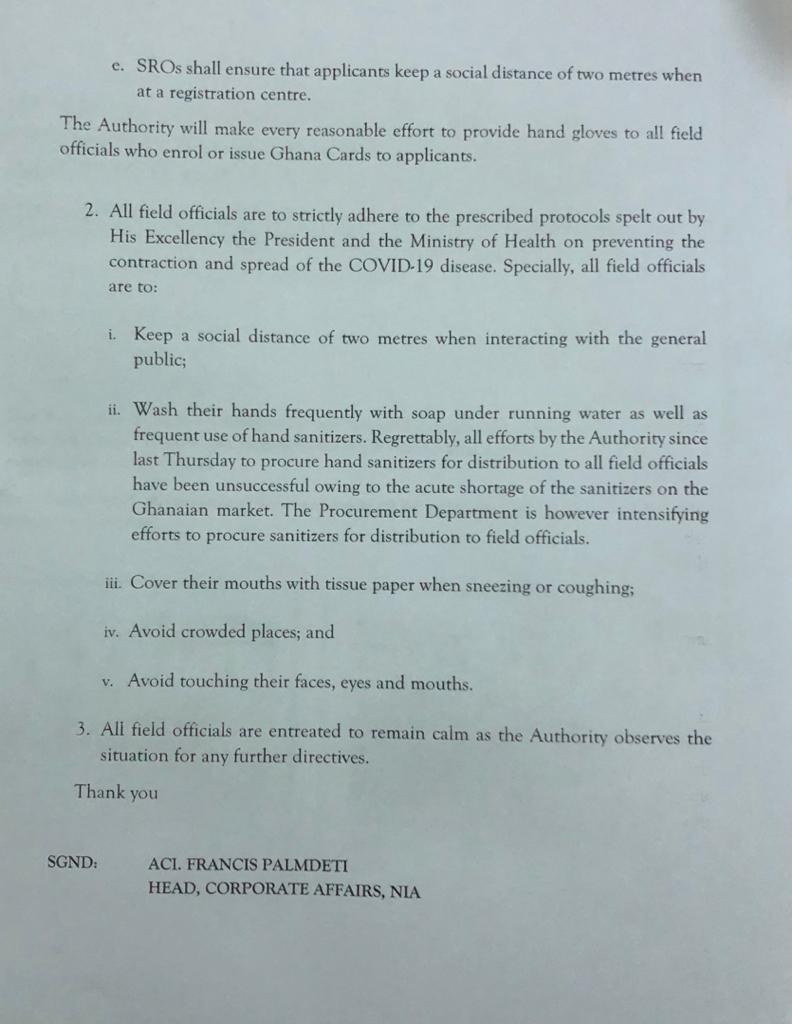 ……………………………………………………………………………………………………………………………
Following the directive for the closure of Universities in a broadcast announced by Pres Akufo-Addo, management of the University of Cape Coast has also given students a five-day ultimatum to leave the school premises.
"All students of the University have up to 6:00 pm, on Saturday, March 21, 2020, to leave campus until further notice. Halls of residence will be closed after 6:00 pm," as stated in the statement signed by the Registrar, John Kofi Nyan.
It also announced that lecture theatres, Laboratories, and Libraries will be closed to all students from Monday, March 16, 2020.
Find below the statement from UCC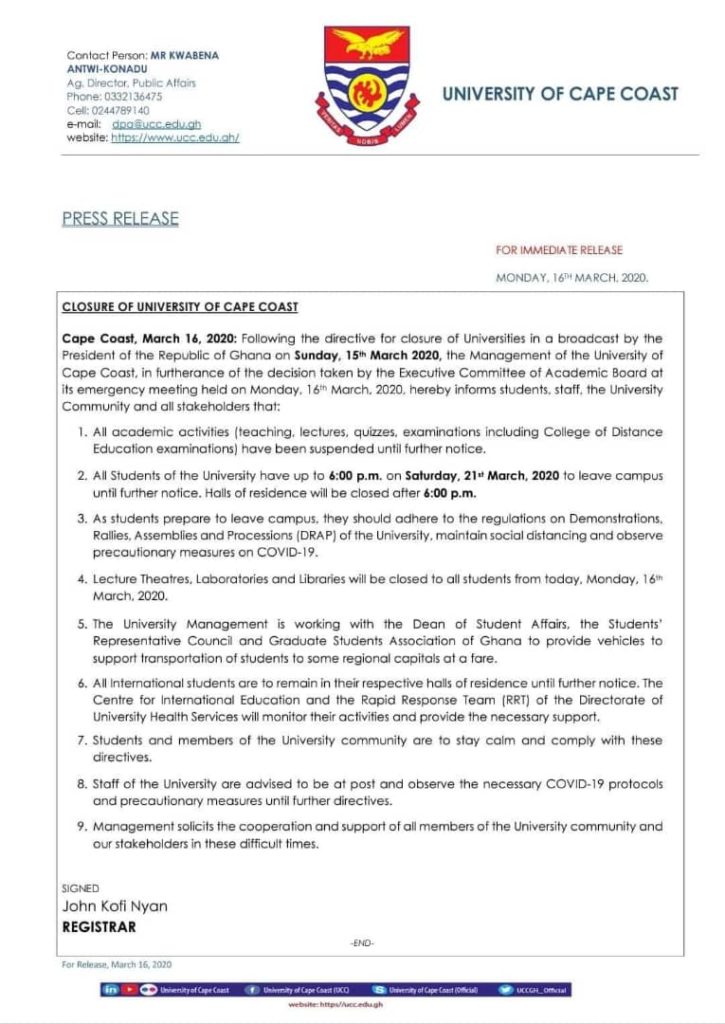 Six victims in Ghana contacted a total of 149 other persons.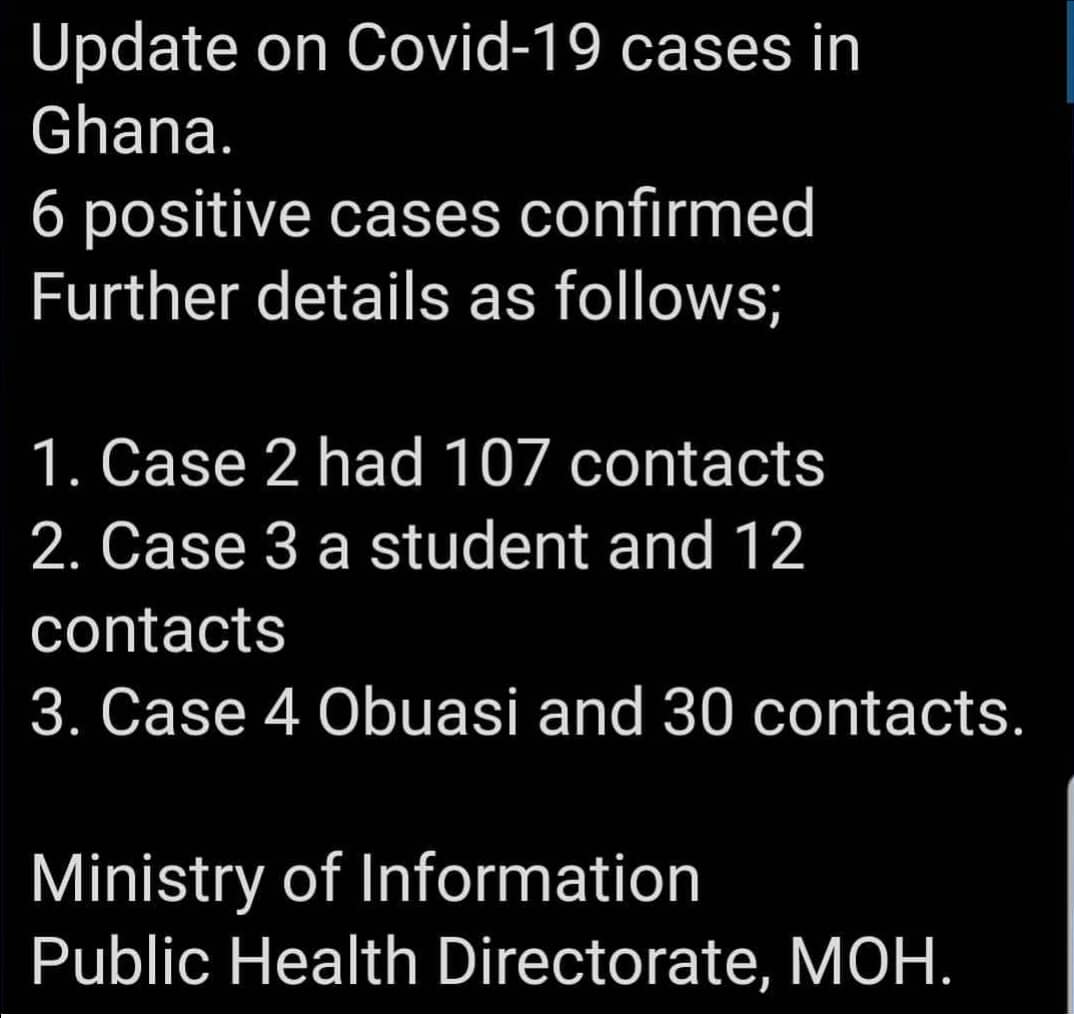 1:00pm  Sunday, March 15, 2020
The number of confirmed coronavirus cases in Ghana has tripled to six, just three days after the first two were announced on Thursday, March 12, 2020.
Dr Badu Sarkodie, the Director for Public Health at the Ghana Health Service (GHS), disclosed the new cases in a news update on Sunday, March 15.
He said they had isolated all the patients, and they were being monitored closely.
More soon…
—————————————————————————————————————————————-
9:30 am Saturday 14, March 2020
Obuasi man set to be confirmed as third victim
Ghanaian officials are expected to name a third victim of coronavirus, theghanareport.com has learned.
The man- a Ghanaian- came into the country through Kotoka International Airport from a country yet to be confirmed.
He flew directly to Obuasi in the Ashanti Region in a helicopter, JoyNews has reported. He was tested in a facility in the regional capital, Kumasi, where results turned 'positive'.
The man whose identity is unconfirmed becomes the second Ghanaian to be infected and the country's third case.
All cases were imported.
---
——————————————————————————————————————————————
Friday, March 13, 2020.
8.30 pm.
Provide logistics or our members will abandon post–Nurses and Midwives to govt
President Nana Addo Dankwa Akufo-Addo last Wednesday said he has ordered the release of $100 million for the fight against coronavirus outbreak in the country, but the Ghana Registered Nurses and Midwives Association appears not to have seen much in terms of logistics.
It has, therefore, asked the government to provide the necessary logistics for the isolation centers or risk its members abandoning post.
In a statement jointly signed and issued by its President, Perpetual Ofori-Ampofo  and its General Secretary, David Tenkorang-Twum, the association complained of lack of logistics to aid the work of its members. 
"We reiterate the need for the Ministry of Health to provide the necessary logistics required to prevent the spread of the virus at the designated COVID_19 treatment centres," the statement read.
"In events of unavailability of this logistics of the isolation centres, we strongly advise our nurses and midwives to protect their lives by removing themselves from that environment," the statement said.
Below is the full statement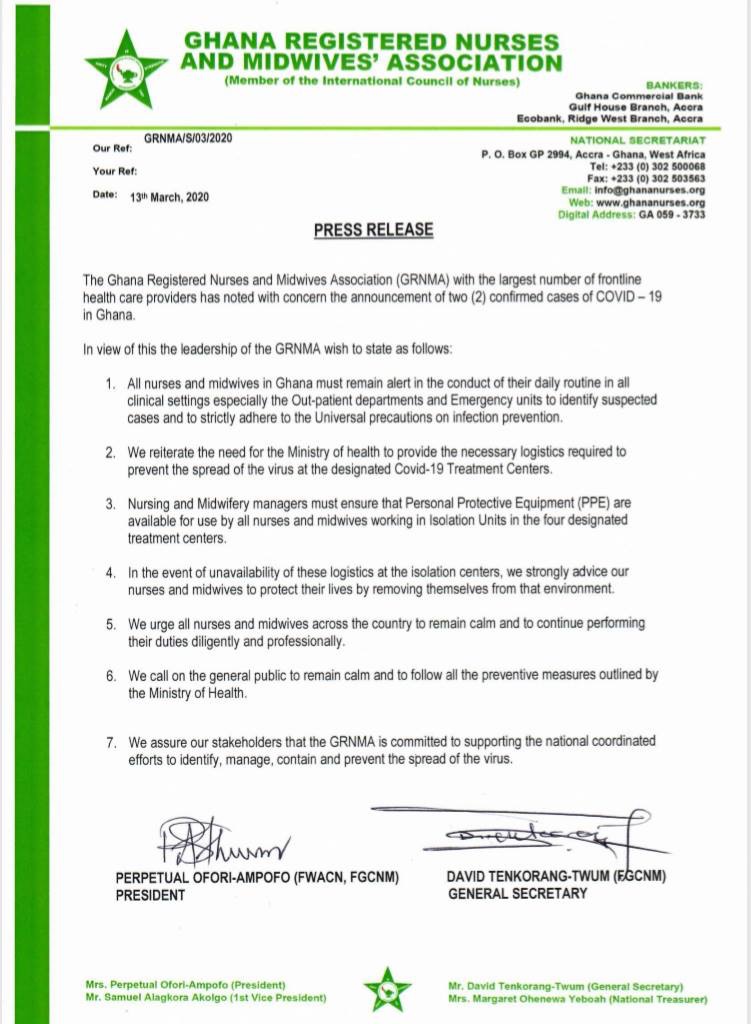 8:00 pm
GES suspends all public activities in schools
The Ghana Education Service (GES), has directed all heads of public schools to suspend all public gatherings in their various institutions.
According to the  GES, functions such as speech and prize-giving days should be cancelled until further notice.
"… all schools are to suspend all public activities such as speech and prize-giving days until further directives are given by the Director-General," a statement said.
This comes after international schools in Accra shut down after the country recorded two coronavirus cases.
Meanwhile, the GES has provided some materials to educate pupils in basic schools across the country.
Read full statement from GES below
7:10 pm.
The Korle Bu Teaching Hospital has limited visits to patients on admission to only two relatives, as part of measures to prevent the spread of COVID-19.
At the Department of Child Health, only parents/guardians of patients are permitted to visit.
A statement from the Hospital said the measures had become necessary because "patients are already vulnerable and can, therefore, be easily infected."
"We urge patients and their relatives to support the hospital in implementing this directive for the safety of all especially our patients and caregivers," the statement added.
4.33 pm.
Norwegian embassy, UNDP office confirm Ghana's two cases of coronavirus are their staff
The Norwegian Embassy in Accra and the United Nations Development Programme (UNDP) offices in Accra have confirmed that Ghana's two reported cases of coronavirus are members of their staff.
A Facebook post by the Norwegian embassy in Accra said all staff in their office had been quarantined and their office shut down.
Meanwhile, the United Nations Development Program (UNDP) offices in Accra has also confirmed its staff was among the two patients quarantined by the  government.
The UNDP staff, according to the government, is a Ghanaian citizen. All two imported cases have been quarantined. 
———————————————————————————————————————————–
---
4.30 pm. 
Video discrediting confirmed coronavirus "fake"—Korle Bu
The Korle Bu Teaching Hospital (KBTH) has refuted the content of a video which seemed to counter the detection of coronavirus in Ghana.
The video, which is circulating on social media, captures Korle Bu CEO, Dr Daniel Asare, saying two suspected cases have proven negative.
It turns out that the video was an interview with the media on February 6, in response to some two suspected cases at Ghana's premier health facility.
However, following the announcement by the Ministry of Health on two confirmed cases on Thursday, March 13, the video went viral.
The hospital's management, in a Facebook post, has asked the public to disregard the video.
————————————————————————————————————————————
3.10 pm.
Ghanaian celebrities have taken to social media to react to the pandemic as Ghana records its first two cases.
---
2:30 pm.
Following the announcement of two confirmed cases of coronavirus in Ghana by the Health Minister, Kwaku Agyeman Manu, some international schools in the country have shut their doors to academic work.
Ghana International School (GIS), German Swiss School and Al Rayan International School, have all closed down effectively on Friday, March 13, 2020.
——————————————————————————————————————————————
2.10 pm.
The Minister for Information, Kojo Oppong Nkrumah, has stated categorically that it will be difficult for the government to organise a mass testing exercise for the public.
The call for mass testing comes shortly after the Health Ministry announced that Ghana had confirmed two cases of COVID-19. The two are reported to have returned to Ghana from Norway and Turkey.
In an interview with Accra-based Citi FM, and monitored by theghanareport.com, Mr Oppong Nkrumah explained that generally, it took four to six hours to test for the virus, but testing everyone was not something the government would want to take up now.
——————————————————————————————————————————————
1.15 pm.
The National Chief Imam, Sheikh Osmanu Nuhu Sharubutu, has cancelled all trips to countries that have been hit with the coronavirus.
The 100-year-old had an itinerary that includes visits to countries that have recorded the dreaded disease — Côte d'Ivoire included.
But Spokesperson for the Chief Imam, Sheikh Aremeyaw Shaibu, in an interview on Starr FM, said some proactive measures had been taken to protect the Islamic cleric from contracting the disease.
"At least, there was one trip he was going to make to Côte d'Ivoire and we've had to suspend that trip. We are aware that most people will want to go to him and be shaking hands. We have drawn his attention to it and we're taking steps to restrict people from coming to him for handshakes," the PRO said.
—————————————————————————————————————————————–
1: 00 pm. 
Universities in Ghana respond
The University of Cape Coast has announced it has suspended all international conferences until further notice. The University for Professional Studies (UPSA) has also shut down its elevators and banned all mass gatherings on campus.
The Kwame Nkrumah University of Science and Technology has also announced it has suspended all social programs like Hall Week celebrations and sporting activities.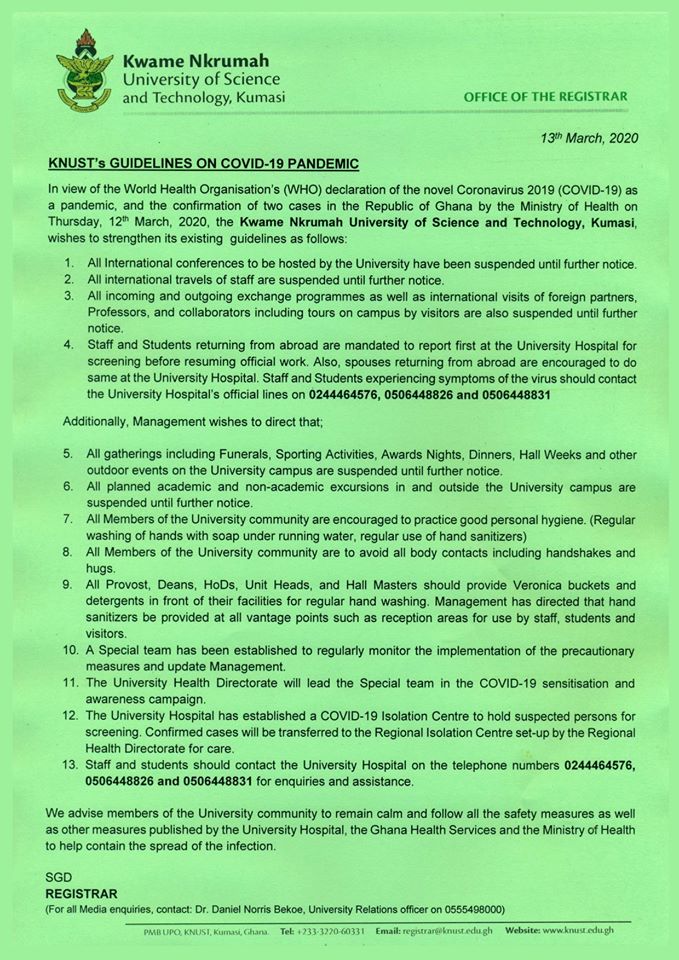 ——————————————————————————————————————————————
12 pm
Intercity-STC announces screenings for passengers
Intercity STC has said it would be starting a strict screening process for its passengers.  Armed with temperature guns, they will check every passenger to detect those with readings exceeding 37oC for a referral to health facilities for further tests.
"As passengers come through Ghana to the Francophone country, as they get off the bus for their break, the temperature gauges can be used on them, and then we can have an isolation ward if any abnormal temperatures show up," Mr Akomea told Joy FM on Friday.
STC deployed the use of hand sanitizers by passengers and gloves for staff following the detection of the virus in Cote d'Ivoire.
---
11 am. 
The Minister of Information, Kojo Oppong Nkrumah, has revealed that one of the people infected with the coronavirus is a Ghanaian.
In an interview on Citi FM, monitored by theghanareport.com, the minister said the two infected persons had been in the country for about a week.
He, however, failed to reveal the identities of the said persons but only said, "One of the two people who tested positive for coronavirus came from Norway, the other came from Turkey. One is a foreigner, the other is a Ghanaian-based abroad who returned to the country".
According to him, the government had begun tracing all persons who had contact with the individuals.
——————————————————————————————————————————————
10. 15 am
Ghanaians on social media react to the outbreak
Many Ghanaians took to social media to react to the latest news.
Coronavirus: How Ghanaians are reacting to the country's first case
—————————————————————————————————————————————–
9.30 am.
The First Lady has also cancelled her event on women empowerment
Rebecca Akufo-Addo event at Labadi Beach Hotel cancelled over coronavirus fears
More events are getting cancelled, with media network, Adom FM calling off its 'Color Party' slated for Saturday.