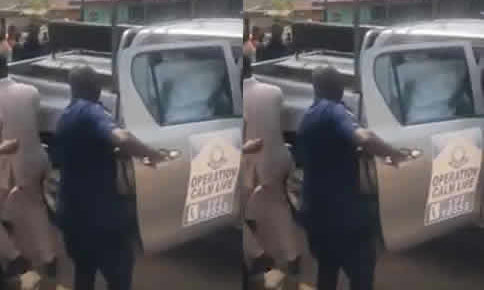 Coronavirus: 'Open Arms Ministry' pastor arrested for open rebellion against gov't ban
Apostle Kofi Nkrumah Sarkodie, the Head Pastor of 'Open Arms Ministry' in Kumasi, is in the grips of the police for defying the government's order banning social gatherings for the next four weeks.
The order is meant to curtail the spread of the deadly coronavirus, but the pastor and his congregation were up in prayer and tongues when the police arrived to arrest him on Wednesday.
In a video circulating on social media, police officers stormed the church premise in the middle of the service and arrested the pastor.
His members in the spirit of religious exuberance hooted at the police as the law enforcement officers led their leader into the police pickup.
President Akufo-Addo on Sunday, March 13, suspended all public gatherings in the country following the recording of six confirmed cases of coronavirus.
Akufo-Addo shuts all schools; bans funerals, church and mosque gatherings
"I have decided in the interest of public safety and protection of our population, to review the public gathering advisories earlier announced"
Coronavirus: Let's brace for more cases – Head of Noguchi warns