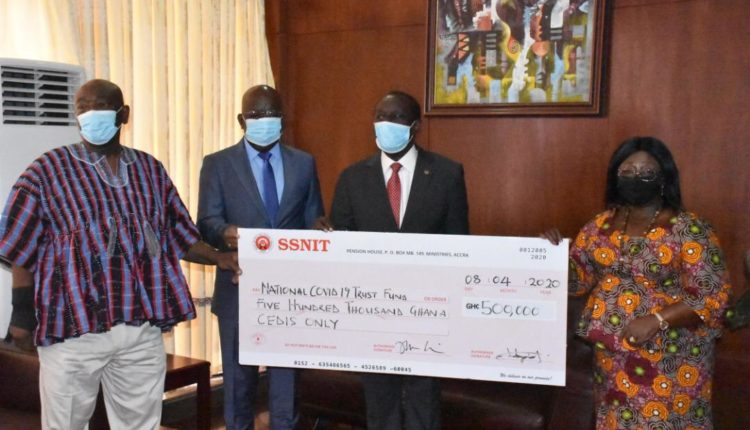 Coronavirus: SSNIT donates GHS 500,000 to National Trust Fund
The Management of Social Security and National Insurance Trust (SSNIT) has presented an amount of five hundred thousand Ghana Cedis (GH¢500,000.00) to the COVID-19 National Trust Fund.
Leading the delegation from the Trust, Board Chairman, Dr. Addo Kufuor, said  SSNIT was heeding to the President's call for all to support the fight against the deadly novel coronavirus disease in Ghana.
Methodist Church donates GHC100,000 towards coronavirus fight
According to him, despite the challenges the pandemic has posed to the Trust it was prudent to step up to the plate and contribute to the National effort.
"SSNIT's work involves the collection of contributions and payment of benefits to workers as and when they qualify. What that simply means is that, if workers die, there will be no SSNIT Scheme. We, therefore, commend the government for all the hard work, they are putting in to help fight this pandemic. We are here to present what others might call our widow's mite, but we call it, the Pensioners' donation".
The Church Pentecost donates logistics to Ministry of Health to combat COVID-19
He called on other state institutions, private companies and benevolent individuals to complement the government's efforts.
Receiving the gesture on behalf of the government, the Chief of Staff, Frema Osei Opare expressed her appreciation.
"On behalf of the government, I would like to express our sincere gratitude to SSNIT for this handsome donation. We are grateful for the overwhelming support and donations from institutions such as yours in these crucial times.
"The President is committed to taking timely steps to help fight the spread of the virus and we are grateful to you for stepping up and helping," she said.