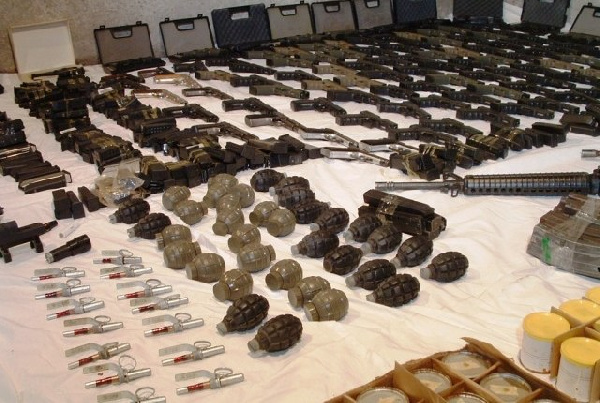 A private legal practitioner representing some three people arrested for attempting to overthrow the government says not all the weapons exhibited by the government belong to his clients.
Victor Adawudu in an interview with Starr News stated that his clients completely deny owning most of the weapons found at the Citadel Hospital and exhibited by the government to back its claims that his clients were attempting to destabilise the country.
Government on Monday announced a planned attack on the jubilee House had been detected and foiled by a combined team of CID and BNI operatives.
The planned attack was intended to distabilise the country, government said in a statement.
The said operation, according to a statement from the Information ministry, took place on Thursday September 19, 2019.
The statement said three people including Dr. Frederick Yao Mac-Palm and his two accomplices – Mr. Ezor Kafui (a local weapon manufacturer) and Mr. Bright Allan Debrah Ofosu (aka BB or ADC) had been arrested.
Information Minister Kojo Oppong Nkrumah also disclosed that some military personnel including an officer are in custody over the alleged attempted coup plot on Ghana's presidency.
According to him, charges will be put against the suspects in the court of law in the coming days.
"There are military persons including an officer who are in custody and being interrogated in connection with this incident," the Information minister told sit-in host of Morning Starr Lantam Papanko on Tuesday.
But speaking on Starr Midday News on Tuesday, Mr. Adawudu stated that his clients have no knowledge of most of the allegations being made by the government.
"They deny it…some (ammunitions) were found on the premises, as to who owns it, is a different matter," Mr. Adawudu said.