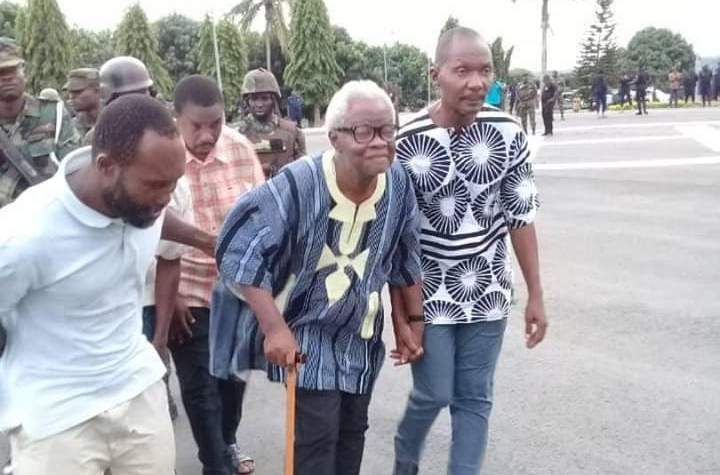 Court discharges 9 members of Volta secession group
The Accra High Court has discharged nine people arraigned for allegedly planning to secede the Volta Region from the rest of Ghana.
The nine who were part of a group calling itself the Homeland Study Group Foundation (HSGF), were set free after the Attorney -General's Department (A-G) filed a nolle prosequi to discontinue the case.
They nine accused persons were Charles Kormi Kudzodzi (aka Papavi Hogbedetor), Besa Amedeus Akorli, Blay Kaku Freeman, Nkpe Tornyie Kudjo, Kofi Dzereke, Thompson Tsigbe, Benjamin Agbodzagah, Agbenyega Akudzi and Sergeant Samuel Kpogli Kwabla.
Case struck out
At today's hearing, a Senior State Attorney, Ms Winifred Sarpong, told the three-member panel of court that the prosecution had been instructed to withdraw the case.
In view of that, the panel, presided over by Justice Jerome Nkrumah, with Justices Ekow Baiden and Afia Serwah Asare- Botwe as its members, struck out the case as withdrawn and discharged the accused persons.
Charges
All the nine accused persons were charged with conspiracy to commit treason, abetment of unlawful training, unlawful assembly and offensive conduct conducive to the breach of the peace.
Arrest
According to the facts, as presented by the prosecution, the group calling itself the HSGF planned to secede the Volta Region from Ghana and declare it as an independent country called Western Togoland.
They claim that the Volta Region (Western Togoland) was formerly an independent state before being made to join Ghana in a plebiscite.
Eight of its members were arrested by a combined team of police and military men in a house in Ho while holding a meeting to finalise arrangements to declare the Volta Region an independent state on May 9, 20I9.
According to the prosecution, when the police intercepted their meeting, they found T-shirts with the inscriptions: "9th May is our day" and "A Citizen of Western Togoland".
It said the police also found messages that revealed that Sgt Kwabla, the soldier, had given the group advance messages to hide their weapons due to a pending search by a combined team of the police and the military.