COVID-19 : 126 private schools collapse ; thousands of students stranded – GNACOPS
A total of 126 private schools have been forced to fold up since the outbreak of the novel coronavirus in March, last year, the GNACOPS research has revealed.
Data from the Ghana National Council of Private Schools (GNACOPS) also showed that as of January 4, 2021, an average of 2,394 teachers have lost their jobs.
Giving a breakdown of the collapsed schools, the report suggested that the country's capital, Accra topped the list with 16 collapsed schools.
Northern Region follows with a total of 13 schools hitting rock bottom. Schools in the Ashanti Region were not left out — the virus crippled 11.
Eastern, Upper West and Bono East regions each have 10 educational institutions down.
Oti Region has the least, with three schools.
According to GNACOPS, the closure of these educational facilities means that at least 37,800 students have been affected by the shut down.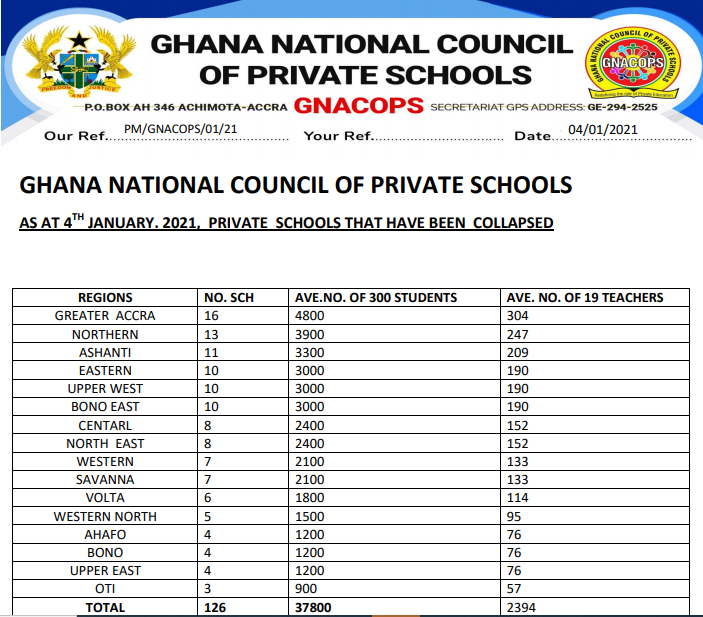 Since March 12, 2020, the deadly virus, among other things has left many businesses, including private schools in a state of financial difficulties.
Many private schools have been left at the mercy of the virus, making it difficult to resume operations as the government announced possible reopening in January.
Basic schools are set to reopen on January 15, this year, after 10 months' closure as a result of the outbreak of the COVID-19 pandemic.
On March 15, 2020, the President announced the closure of all schools and universities, among a string of measures to stem the spread of the pandemic.
But it seems the affected private schools will not be able to join others in the education sector on the re-opening day.
The research has also identified the failure of regulatory agencies such as the National Inspectorate Board (NIB), Social Security Insurance and National Trust (SSNIT) and Ghana Revenue Authority (GRA) to ensure flexible terms of cooperation during their hard times.
The National Executive Director of GNACOPS, Enoch Kwasi Gyetuah, in an earlier interview, said the virus has indeed had devastating impact on them.
"Most of the schools have sacked teachers during lockdown because SSNIT took them to court over contributions, so they had to sack the teachers to be safe. GRA threatened the schools with closure; they had to go to their offices and plead.
"The NIB which regulates both public and private schools want to police the schools rather than the sustenance measures – checking the schools for standards and registration other than sustenance," he lamented.
During the outbreak, the government rolled out some social intervention measures to cushion businesses as the virus took its toll.
One of such interventions was the GHC600,000 stimulus package for small and medium scale enterprises. However, private schools raised concerns over how the allocation was being done.