COVID-19: AU directs Madagascar to submit 'herbal cure' for test
The Africa Union (AU) has requested volumes of an alleged herbal cure for the deadly coronavirus from Madagascar to ascertain the efficacy and safety of the concoction.
Through the Africa Centres for Disease Control and Prevention (Africa CDC), the Union will analyse the medication, named COVID-19 Organics, which was discovered by Madagascar.
COVID-19 Organics is produced from the artemisia plant, which contains one of the active ingredients in some malaria drugs.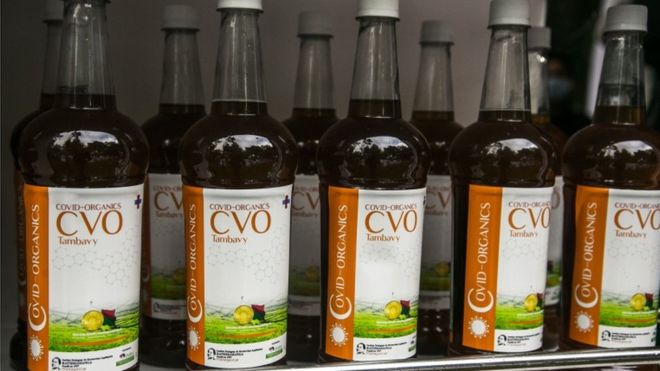 The World Health Organization (WHO) had stated that there was no proof of a cure for the coronavirus that has infected 3.6million worldwide, killed more than 253, 000, with 1.2million recovering fully, as at 3 pm on Tuesday.
WHO further noted in a statement on Monday that it "welcomes innovations around the world including repurposing drugs, traditional medicines and developing new therapies in the search for potential treatments for COVID-19".
"Many plants and substances are being proposed without the minimum requirements and evidence of quality, safety and efficacy," WHO cautioned.
The Union, therefore, sought to determine scientific evidence of the alleged herbal cure in line with globally-acceptable standards in the pharmaceutical industry before endorsing its use or otherwise.
A statement from the Union on Monday, May 4, said the decision was taken after the participation of Madagascar's President Andry Rajoelina in a teleconference meeting of the Bureau of the Assembly of AU Heads of State and Government with the Chairpersons of the AU Regional Economic Communities (RECs) on 29 April 2020, in which he participated as Chairperson of the Common Market for Eastern and Southern Africa (COMESA), and where he made a presentation to his peers regarding the herbal remedy.
The teleconference was convened by President Matamela Cyril Ramaphosa of the  South Africa, and Chairperson of the African Union (AU), and had the aim of appraising the Chairpersons of the RECs about the actions and initiatives undertaken by the African Union in response to the spread of the coronavirus (COVID-19) pandemic on the continent.
"It was agreed that the member state would furnish the African Union with necessary details regarding the herbal remedy," the release explained.
The use of COVID-19 Organics is widespread with the BBC reporting on May 4 that President of Tanzania, John Magufuli, had made requests for large quantities to be exported to his country.
The BBC further cited information attributed to the Malagasy president's chief of staff Lova Hasinirina Ranoromaro indicating that the product was being marketed even though tests were carried on less than 20 people over a period of three weeks.
Other African countries, including Guinea-Bissau, have also received consignments with Madagascar's President, indicating in a tweet that they were available to help friendly nations to defeat the contagion.
L'envoyé spécial du Président de la Guinée équatoriale, le Vice-ministre de la santé @MitohaOndo est arrivé sur le sol Malagasy pour récupérer le Tambavy CovidOrganics / préventif et curatif . #Madagascar est là pour venir en aide à tous les pays amis contre le #COVID19. 🇲🇬 🇬🇶 pic.twitter.com/VzaQ8DqcEF

— Andry Rajoelina (@SE_Rajoelina) April 30, 2020