Coronavirus: Ghana records four deaths, two recoveries
The fast-spreading coronavirus has killed one more person, bringing fatalities to four, while two patients have recovered, the Ghana Health Service (GHS) has revealed.
Another person has also tested positive, bringing the total number of cases to 137.
The latest update was reported on the GHS portal, which provides information on the COVID-19 outbreak in the country.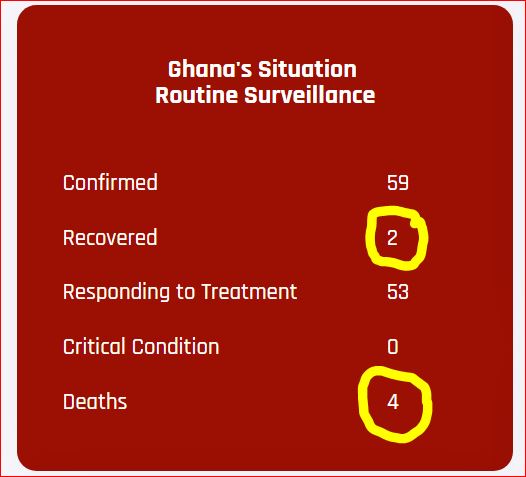 The first person to overcome the virulent infection was a Chinese man in the Ashanti Region, but details of the second person are yet to be made public.
The Upper West region recorded its first case of the coronavirus in addition to some four news cases reported on Friday.
Video: Some unconscious ways you could easily contract coronavirus
The increasing number of infections has compelled some experts to pile pressure on President Nana Akufo-Addo to order a lockdown in the country as health personnel contain the spread.
Mr Akufo-Addo is scheduled to address the nation on the next line of action after the country closed its borders and banned public gatherings.
Special Report: Photos show how coronavirus has killed Osu nightlife – except sex work