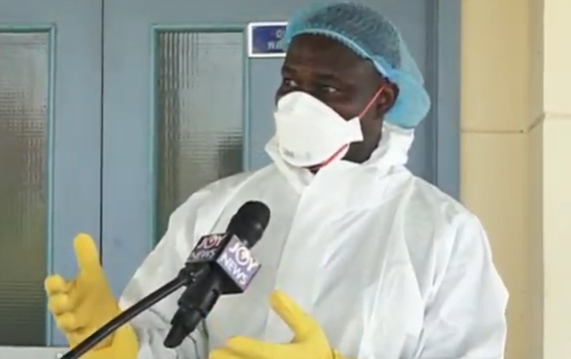 COVID-19 pandemic: Ghana performs first two autopsies at Ga East Hospital
Ghana has conducted its first two autopsies for two COVID-19 patients who died in the wake of the global pandemic.
A team of doctors from the Ghana Health Service and the 37 Military Hospital did the pathological test within 1 hour 30 minutes at the Ga-East district hospital on Thursday.
According to pathologists, this was a major feat in Ghana's COVID-19 fight as it would help unravel and inform doctors of the actual cause of death of the patients who died from the coronavirus.
It would also help streamline measures for a possible remedy and inform relatives of COVID-19 patients on ways to protect themselves from the global pandemic.
A Pathologist with the 37 Military Hospital, Colonel Dr Seth Attoh, described this as a breakthrough which would help Ghana in its COVID-19 war.
Giving reasons for conducting the autopsies in a JoyNews interview, monitored by theghanareport.com, Dr Attoh said, "the clinical manifestation of the patients shows that Ghana has a different pattern where we have so many people surviving, which is a good thing but we need to go beyond that and find out what is killing those few people."
Dr Attoh noted that "One of the things we need to understand is that for case management, we've poured so much of ourselves into treating these patients and after the 14 days, we double test to confirm if the results were indeed negative or positive."
"You might have a patient who has recovered, but it may also be possible that those who died had problems with their lungs before they died," he said.
According to him, it is important to establish the cause of death, whether it was from the lungs or the heart.
He made reference to pathological studies from China, Italy and US, which showed that every country's case is unique and different and hence the virus must be tackled differently.
Ghana recorded its first COVID-19 death on March 21 in the Ashanti Regional capital, Kumasi.
The victim, Tarik Minkara, was a 61-year-old male Lebanese national who tested positive for the virus in March 2020.