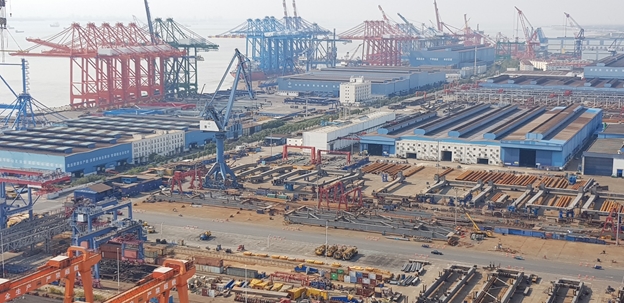 Cranes for Tema Port Expansion Project set to sail to Ghana
Meridian Port Services (MPS), the company that is undertaking the Tema Port Expansion project, has announced that the first batch of cranes for the project are being loaded to set sail from Shanghai to Tema.
This is after the final inspection and approval of the fully-assembled cranes, underwent the testing cycle.
This batch of cranes include 4 ship-to-shore (STS) and 8 electric rubber tyre gantry (eRTG) cranes. In total, 27 cranes are expected for the project.
The final inspection mission was conducted by the CEO of Meridian Port Services, Mohammed Samara, in the company of Edward Osei, the Tema Port Director of Ghana Ports and Harbours Authority.
Mr. Osei expressed how impressed he was with the quality of workmanship and punctuality shown by ZPMC Heavy Industrial Complex, which is the company undertaking the assembling of the cranes.
The first batch of cranes are expected to arrive at Tema Port on 19th December. Work is currently far advanced on the new port infrastructure with completion of the first berth due in the first week of December, to receive the consignment of new cranes.
Mr. Samara expressed delight that all contractors have fulfilled their end of the bargain to deliver on target.
The new Ship-To-Shore gantry cranes are the world's top class. They were meticulously designed and opted for to boost productivity with operating capabilities into the future. These High-tech STS cranes are Super-Post Panamax with capacity of servicing the world's largest vessels (66 meters Outreach capable of handling containers up to the vessels' 23rd row and over 10 containers high on deck).
All cranes are fitted with twin-lift spreaders with up to 65 ton.
It is worthy to note that MPS Terminal has the highest level of concentration of liner shipping services in West Africa with 16 Shipping Lines co-sharing 11 regular weekly services. Also, Tema Port has the lowest Anchorage Time attributed to being the first West African Port to offer fixed Berthing Window to the main Liner Services while delivering the fastest Vessel Turnaround Time.
The CEO of MPS indicated that the new MPS Terminal facility will be the largest port Infrastructure & Superstructure in the region.
He added that MPS will continue to accomplish its core mandate of delivering maritime efficiency in all of its operations.
"The efficient port accessibility, added infrastructure capacity along with the sophisticated port handling equipment and state of the art port technology will in effect make Tema Port the Hub Port on the western coastline of Africa" said Mr. Samara.
source: citinewsroom