Dampare takes over from Oppong-Boanuh as new IGP
It is expected that Commissioner of Police (COP) Dr George Akuffo Dampare will become the new Inspector General of Police (IGP).
A press release from the Presidency on Wednesday, July 21, and signed by the Director of Communications at the Office of The President, Eugene Arhin, indicated that the 51-year-old academic, accountant and police officer has been named by President Nana Akufo-Addo for the role.
Dr Dampare, who will be the 11th substantive IGP in the Fourth Republic, is set to become the youngest law officer appointed to the role in the last few decades.
He will replace James Oppong-Boanuh, who has been serving in that capacity since August 14, 2019. Oppong-Boanuh will retire in October but Dr Dampare assumes his new role on August 1.
Prior to this promotion, COP Dr Dampare was the Director-General in charge of Operations at the Ghana Police Service.
He joined the police service as a constable about three decades ago and has risen through the ranks to the rank of a COP.
He has served in many leadership capacities in the service including being the Director-General in charge of Finance, Director-General in charge of Welfare as well as Director-General in charge of ICT.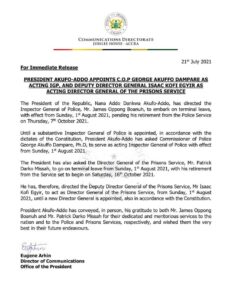 He also once served as the Commandant of the Police Command and Staff College, and Accra Region Police Commander.
But the officer also became a bona fide chartered accountant at the age of 25 while serving as a Police Constable. Now, he holds a PhD in Finance.
In academia, Dr Dampare has been an adjunct lecturer at the Ghana Institute of Management and Public Administration (GIMPA) and also at the University of Cape Coast in Ghana.
His professional experiences are however not limited to the shores of Ghana. Dr Dampare was a Special Assistant to the Regional Commander, United Nations Mission in Bosnia Herzegovina.
He has also served as the Assistant Deputy Commissioner (ADC) to the Vice President, Accountant/Finance Officer, Ghana Police Service and the Head of Police and Narcotics Desk at the Ministry of Interior.
Between 2010 and 2015, under the leadership of two IGPs – Paul Tawiah Quaye and Mohammed Ahmed Alhassan – Dampare led and coordinated the National Anti-Armed Robbery Reward to Informant Initiative.
In 2018, the Ghana Journalists Association (GJA) in acknowledgement of his public service conferred an honorary GJA membership on him.
The honoured bestowed on him was not only for his hard work but also in recognition of his cordial relationship with the media in the discharge of their duties.
He also won all awards, including Excellence in Professional Police Subjects and Excellence in Academic Subjects.