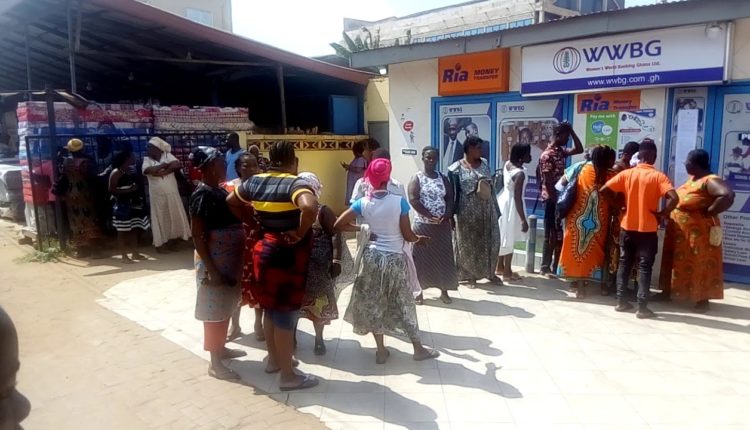 Depositors besiege Women's World Banking office at Madina after BOG's announcement [VIDEO]
Several depositors of the Women's World Banking Ghana (WWBG) have flooded the Madina branch of the bank barely 24 hours after the Bank of Ghana announced that it has revoked the licenses of 23 savings and loans companies in the country.
But barely 24 hours after the announcement a viral video by Ghcampus.net on Instagram suggests not many are convinced that their deposits are safe. A number of people, presumably depositors can be seen lined up in front of the Women's World Banking Ghana at Madina to retrieve their deposits.
The website reports that the depositors, most of whom are women, say they have come there to empty their accounts as a result of the announcement they heard yesterday.
However, giving the fact that today is a Saturday, there was no worker at the premises although the notice from the Bank of Ghana has been posted at the entrance.
The central bank's announcement affected top savings and loans company in the country including GN Savings and Loans, IFS Savings and Loans, CDH Savings and Loans Ltd and Ideal Finance.
Click the link below to watch the video:
GhCampus on Instagram- "Depositors have besieged the premises of the Madina branch (Taxi rank) of Women's World Banking Ghana Limited (WWBG) to demand their funds,…"