Dogboe beats Lopez by majority decision
Isaac 'Royal Storm' Dogboe won against Adam Lopez in a ten-round majority decision on Saturday evening at the Virgin Hotels, Las Vegas.
The close fight saw the former  World Boxing Organisation (WBO) junior featherweight titlist edge out the audacious Lopez to keep his second world title dream alive.
Judge Dave Moretti had the action even at 95-95, overruled by judges Chris Migliore (97-93) and Don Trella (96-94) who ruled in favour of Dogboe in a spirited featherweight battle.
The bout was Dogboe's second since suffering back-to-back defeats to Emmanuel Navarrete in 2018 and 2019, defeats which cost him the WBO super bantamweight strap.
The 26-year-old Ghanaian however defeated Chris Avalos in an eighth round TKO when he returned to the ring in July 2020.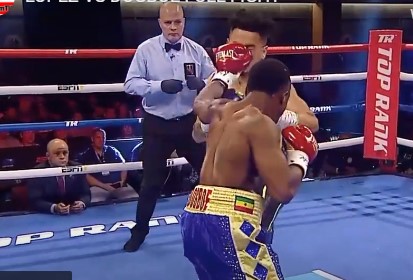 Dogboe's fight, which was his first under the guidance of his new trainer, Barry Hunter, saw him enter the rings with an explosive start as Lopez struggled to contend with the former champ's power punches.
READ ALSO: Isaac Dogboe Fights Adam Lopez On June 19
The trends continued in round two, with Dogboe effectively working the body. Lopez looked to seize momentum, but was caught with a right hand and left hook downstairs before Dogboe came back up to land a left hook to the chin.
Lopez was able to take the lead in a spirited round three that saw several two-way exchanges. Dogboe was forced on the defensive for the first time, as Lopez landed in combination, but was still forced to defend against Dogboe's overhand right.
Both boxers entered the ring in the tenth round firing power shots, as both corners reminded the two boxers of how close the ninth round had been.
Although Lopez threw more punches (527 to 487) and landed more (152 to 134) – 29% to Dogboe's 28%, it was not enough for a win.
Dogboe did more with body punches (31 to 25), and coupled with his volume of activity in the early rounds, was enough to convince the two judges.