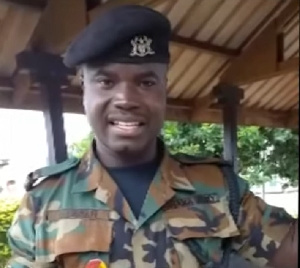 Drop that Chamber soldier STRIPPED of his rank
Former Chief of Defense Staff, General Joseph Nunoo Mensah has described punishment meted out to Lance Corporal Isaac Lincoln Wassa of Recce Squadom in Sunyani as fair and well deserving.
Wassa has been stripped of the rank of lance Corporal to a private soldier.
In an exclusive interview with The Ghana Report, Gen. Nunoo Mensah revealed that the military service is being guided by the civil law and the military law and once you become an officer you are not permitted to engage in certain behaviors like drinking, smoking thus behaviors unbecoming of an officer.
Volume 1 Article 19 section 14 subsection 2 which deals with Improper Conduct by officer says:
(ii)No officer or man shall do or say anything which
(a) if seen or heard by any member of the public might reflect discredit on the Armed Forces or on any of its members
He admonished the youth interested in joining the military to be willing to act in accordance with the laws of the military.
He, however raised concerns that the current military and other security services are turning into what he describes as 'job for the boys' so young soldiers now act contrary to the set principles guiding the force.
#Drop That Chamber Campaign video
L/Cpl Wassah in the viral video warned President Akufo-Addo – the Commander-in-Chief of the Ghana Armed Forces – not to support the construction of the new Parliamentary chamber expected to cost 200 million dollars.
The "#DropThatChamber" campaign was initiated on social media with the aim of mounting pressure on Parliament to discontinue a proposal to build a new 450-seater chamber at a cost of $200 million.
Many Ghanaians joined the social media campaign that was also intended to mobilize about two million Ghanaians to march on the streets on July 13, this year to register their displeasure. The House after sustained social media pressure dropped the plans to construct the new Chamber indefinitely.