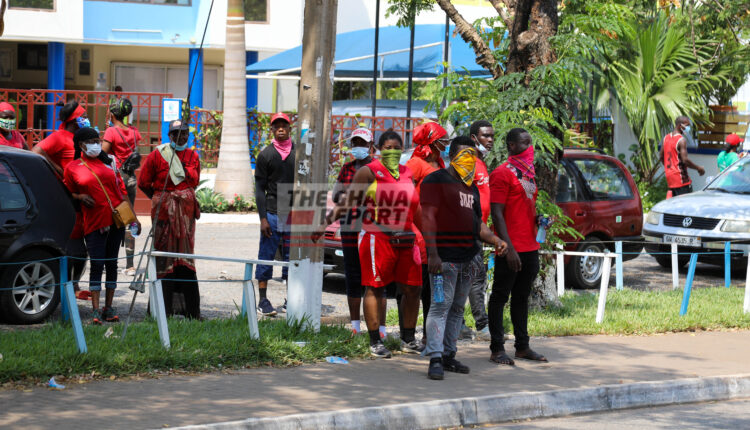 Effutu NDC stopped from protesting over election results
The Effutu Constituency of the National Democratic Congress has been banned from embarking on any form of demonstration over the December 7, 2020, elections. 
The directive was given after the Central Region Police secured a court order from the Cape Coast High Court, which restrains them.
The NDC faithfuls had written to the police, in compliance with the Public Order Act,  seeking to protest the results of the general election on January 5, 2021.
Grounds for refusal
The Police told the court that the group's request could not be granted because it was unable to provide security for the demonstration due to post-election events.
Explaining its inability to grant the request,  the police said events preceding the inauguration of the president-elect Nana Addo Dankwa Akufo-Addo, which would be done on January 7, have other activities lined up from January 5.
The Central Regional Police, therefore, cautioned the general public, especially followers, sympathizers and supporters of the NDC in the Effutu Constituency to comply with the directive.
The action follows a similar one in December last year, where the Accra Regional Police Command also secured a restraining order against the NDC, banning them from embarking on demonstrations in Accra.
Supporters of the NDC across the country have been protesting the results of the 2020 elections.
The country's largest opposition party has since December 8 been protesting what it described as flawed and fictional result declared by the Electoral Commission (EC).
The party is convinced there was a grand scheme to rig the elections in favour of the New Patriotic Party candidate, Nana Addo Dankwa Akufo-Addo.
Its flagbearer, John Dramani Mahama followed up and filed a petition at the Supreme Court challenging the outcome of the just ended polls.
But the party said it would continue to use all means possible, including demonstrations, to drum home the fact that they had been cheated by the commission.