Employ us within one week or we boycott contact tracing – Unemployed Allied Health Professionals
The Coalition of Graduate Unemployed Allied Health Professionals (COAHP) has called on the government to provide them with permanent jobs within a week or else they will lay down their tools.
The agitation by the group stems from a letter the leadership claimed to have cited from the Ministry of Finance giving clearance for nurses to be given permanent jobs, while their members remained jobless.
The group has said they would boycott contact tracing of affected coronavirus patients if the government failed to honour their demands, even though Ghana is yet to reach the tipping point of infections.
"Our attention has been drawn to a letter with reference number MOH/HR/IT/005 from the Ministry of Health indicating that, nurses and midwives have been given financial clearance by the Ministry of Finance, leaving behind Allied Health professionals who heeded calls from the President and the Ghana Health Service to aid in the contact tracing of Covid-19 patients," portions of the statement signed by the group's General Secretary, Vincent Amponsah Gyamfi, noted.
The leadership of the coalition has expressed shock that the Ministry of Health (MoH) would take a decision for recruitment without considering permanent employment for any of it's its 560 members.
They comprise medical record assistants, field technicians and medical laboratory technicians, among others.
In October 2019, they raised concerns about the government's failure to absorb them since completing their programmes in 2017.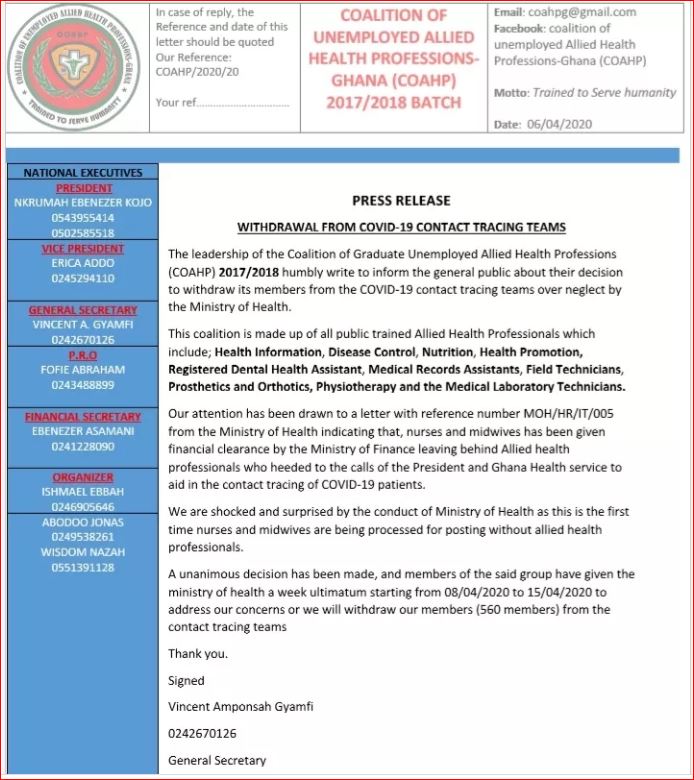 They fear they are being used for tracing of coronavirus contacts and would be ditched by the government once the COVID-19 pandemic is over.
The coronavirus has killed five people as of Wednesday, April 8, with over 313 total cases recorded.
A total of 19, 276 people have been contacted for interacting with carriers of the viral infection and tests have been carried out on 15, 384.
So far 7, 461 results have been released with 14 of the cases testing negative.