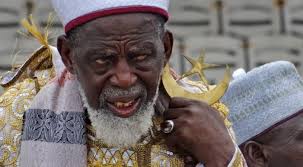 Examine measures to address gaps in COVID-19 fight – Chief Imam to Gov't
The National Chief Imam, Sheikh Osman Nuhu Sharabutu, has urged the government to review its COVID-19 safety protocols, in order to identify the gaps needed to control the novel pandemic.
"We urge the government to critically examine some of the measures needed in order to discover gaps that can be filled to address challenges appropriately, the Chief Imam said during virtual  Eid-ul-Adha prayers in Accra.
With Ghana's case count crossing the 35,000 milestone, Sheikh Aremeyaw, argued that the review was important to help identify people infected with the virus.
He also commended the government for all the efforts put in so far to limit the frontiers of the spread.
He urged all Muslims to strictly adhere to the safety protocols advised by the Ghana Health Service to ensure maximum safety.
The Chief Imam's concern comes on the back of an earlier call for the government to take a second look at its COVID-19 safety protocol directive for religious bodies when the virus appeared to be spreading to most regions in the country.
In June, this year, President Akufo-Addo announced that churches and mosques should operate at a maximum of 100 worshippers and a limit of one hour.
But on July 23, the restrictions were lifted but congregations are allowed maximum of two hours for their activities.
The new COVID-19 protocols aimed at taming the spread of the virus during religious activities, Sheikh mentioned would pose a challenge to Moslems.
Sheikh Sharabutu said the time of worship and crowd management would be a major challenge for the Islamic faithful.
The directive, he said would be easier coordinated in smaller mosques, which accommodate smaller congregations.
The difficulty, he noted, would be with the regional mosques, which attract a larger number of worshipers.
The Chief Imam has on other occasions spoken on the need for the adherence to the safety protocols.