Exhibition of antique photos opens in Accra
An exhibition of antique photos titled "Simply Iconic – Vintage Images of the Beaten Path" is currently underway at the Museum of Science and Technology in Accra.
Curated by artist and academic, Dr. Bernard Akoi-Jackson, it will present a careful selection of photographs that portray social life in Ghana from the 1950s to the 1970s and beyond.
Indeed, a deliberate decision was made to veer off from the rather popular stock of images that are readily associated with the period.
Consequently, the exhibition focuses on the day-to-day activities of ordinary Ghanaians instead of the political elite or state-commissioned photographs of developmental projects, which are readily available in diverse archives throughout the country.
With a collection of photos coordinated by Strategy Consultant, Grace Ayensu, photos were selected from a large pool of images submitted to the Heritage Photo Lab (hosted by the J.H. Kwabena Nketia Archives), contributed by custodians of significant photographic archives in the country and members of the general public.
The exhibition includes an artistic intervention that offers a fresh take on baby portraits from the period in focus, as well as two interactive sections – the nostalgic celebration of the bygone photographic studio experience.
It offers the opportunity to instantly document and share the experience of an exhibition through contemporary photography styles on various digital platforms.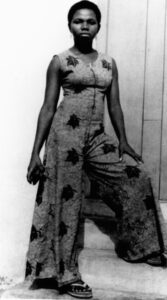 The post-independence years in Ghana witnessed a great deal of promise in the general outlook on life. Thus, the newly independent citizenry participated actively in the celebration of their new status resulting in diverse photographs.
Apart from being one of the official strategies that the government of the day employed to document and share the progress and successes that were becoming apparent, photography became an eloquent means by which the joy of life was expressed by the citizenry.
Heritage Photo Lab is a creative initiative supported by Goethe-Institut Ghana, Institut Francais du Ghana and the German – French Cultural Fund in partnership with the Institute of African Studies (University of Ghana), Nubuke Foundation and Nuku Studio. 
Contributors to the project include Exit Frame Collective (Felicia Abban Archive), Information Services Department, Prof. Esi Sutherland-Addy / Mmofra Foundation (Willis Bell Archive), Kate Tamakloe (Deo Gratias Archive), Modern Photos Company, cultural journalist Nii Laryea Korley and Allotey Bruce Konuah, a photo archivist noted for digitizing the works of acclaimed photographer James Barnor. 
The exhibition ends on Friday, April 16, 2021.