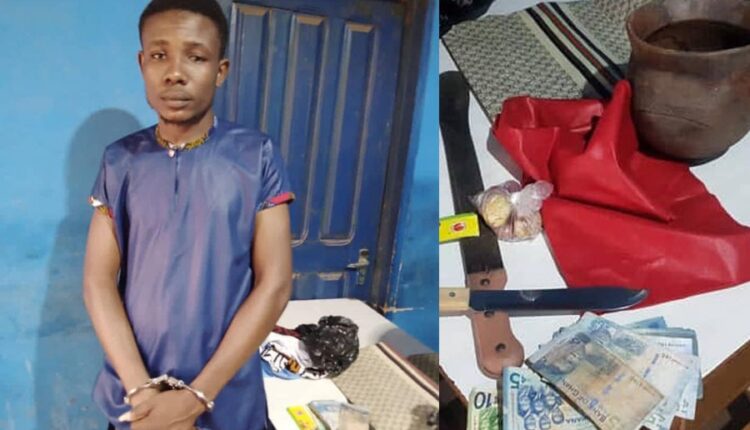 Fashion designer arrested for attempted ritual murder of nephew
Police in Sunyani have arrested a 23-year-old fashion designer for attempting to sacrifice his 13-year-old nephew for money rituals.
Benjamin Adjei was busted upon a tip-off on Saturday, May 15, after he lured the victim into a taxi to convey him to the venue for the rituals.
Police laid ambush at the Abesim-Tano police barrier on the Sunyani-Kumasi highway on their way to the shrine and apprehended him.
A handbag containing one cutlass, a knife, red calico, one-pot, a number of cola nuts, cowries, and a cash sum of GHC 300.00 were recovered from him.
The suspect confessed his intentions and has been detained to be arraigned for court.
An informant had informed the police that on May 14, 2021, he had a phone call from the suspect soliciting assistance from him to lead him to see a ritualist make him rich.
The suspect told him his plans to use his nephew for any required sacrifices.
On the planned day, the informant hinted the police who moved in to effect the arrest.
The arrest is happening a little over a month after two teenagers were nabbed at Kasoa for killing a 10-year-old boy at Kasoa for money rituals.
Felix Nyarko and Nicholas Kini lured their victim into an uncompleted building and reportedly killed him.
Felix is a 16-year-old mason laborer and the first accused, while Nicholas is an 18-year-old student and second accused.
The deceased was playing a video game when his playmates, who are known residents in the area, called him into the uncompleted building.
Per the reports, the accused persons hit Ishmael with an object which resulted in instant death.
Ishmael has been buried and three suspects including the fetish priestess who allegedly issued the instructions are facing prosecution.